The Complete Keys to Progress
by John McCallum
The Classic Muscle Building Series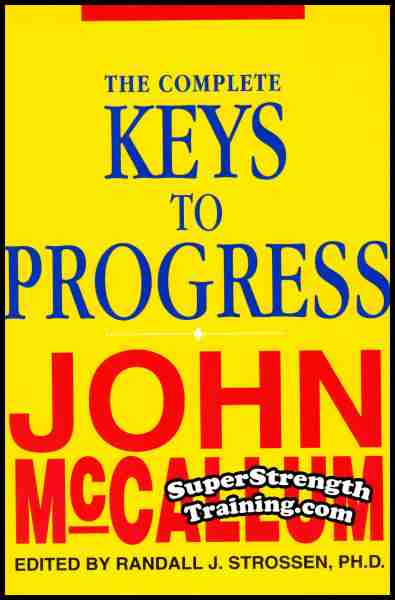 As a teenager back in the 60's I subscribed to every muscle magazine available at the time…
all 6 of them!
Each and every one brought something to the table.
I read some of them for the training information, some of them for the inspirational photos, some for the advertising of various products and some for just plain entertainment.
In fact, later in life, I discovered that some of the magazines were way off the mark, that is, they taught me how NOT to train.
The training articles I liked most were those that continued each month in a series.
One such series was "The Complete Keys to Progress" by John McCallum.
This series ran in York Barbell Company's "Strength and Health" magazine from 1965 to 1972.
Each month I would look forward to the exploits of Marvin, Ollie, Uncle Harry at the gym.
Each one had a different approach to training, each one had their reasons for being there.
You could instantly pick up training tips that you could apply to your own training.
The old gym owner would constantly preach the value of basic exercises, heavy leg work, along with a sensible diet.
Funny how basic, sensible, result producing training information never goes out of style.
As a matter of fact, I occasionally use some of the same routines from that series today, some 40 years later!
Here's an idea of the kind of information that can be found in this great series:
The Time Factor
Concentration
Squat!
The Get Big Drink
Training for Gaining
For Size and Strength
Sleep
Public Relations
Power Training
Nerves-Your Training Barometer
Bulking the Upper Body
The High Protein Diet
Specialization
The Home Gym
Neck Specialization
Grip and Forearm Development
Specialization of the Calves
Desire-The Secret of Success
Results from High Protein-High Set Program
Parallel Bar Dips
Hard Work
The Basic Exercises
Shoulder Specialization
Health, Endurance, and Definition
Pros and Cons of Definition
The Case for Running
Trimming Down
The Definition Diet
P.H.A. for Definition
The Impressive Areas
Supplements
Arm Specialization
The Fountain of Youth
Bulking Up
The Right Way
Back Work for Bulk
For a Big Chest
Questions & Answers
Softening Up for Big Gains
The Hip Belt Squat Routine
Energy
Build Health to Build Muscle
The Essential Ingredients
Vitamin A
Gain Weight to Build Your Arms
The B Vitamins
Maximum Effort
Vitamin C
The Causes of Failure
The Super Bulk and Power Thing
Vitamin D
Leg Specialization for That Polished Look
Weight Training and the Miracle
The Power Look Your Measurements
The Protein Pump
The Case for the Breathing Squat
And much, much more!
This book is an absolute must for every serious weight trainee who wants to cover all the bases when it comes to top quality information.
Here Are Some Testimonials to
The Complete Keys to Progress by John McCallum:
"If John McCallum were still alive, I'd ask him to write for IRONMAN."
John Balik
"IRONMAN" Magazine

"John McCallum was my monthly reminder to be all that weight training would allow me to be…Without any doubt, he was my earliest and strongest influence and one that has endured."
Dr. Ken E. Leistner
"Iron Island Gym"

"Has there ever been a physical culture scribe who crafted a richer bond of understanding and identification with his readership?"
Mike Lambert
"POWERLIFTING USA" magazine

"John's immensely popular and highly acclaimed series combined an unusual gift for writing with an intimate knowledge of the Iron Game. It now appears destined to become a classic…?" 
Randall J. Strossen Ph.D.
Author of "Super Squats"

"'The Complete Keys to Progress' not only one of the best weight training books I have ever read….but one of the best and most entertaining books I have read on any subject. I highly recommend it to anyone who is serious about weight training.
Marvin Wheeler
St Augustine, Florida

Yours for greater strength,



Bill Hinbern
Super Strength Training
P.S. Another 6 x 9 softcover book with 270 pages with a beautiful glossy color cover. Quite simply, a Great Book!
The Complete Keys to Progress
by John McCallum
$ 19.95 + S&H