The Complete
Sandbag Training Course
by Brian Jones
"Are You Sandbaggin'?"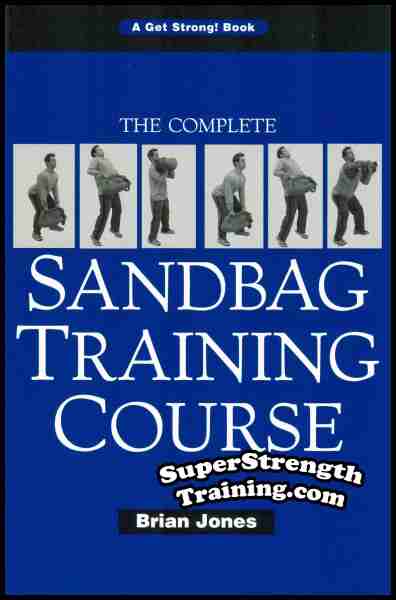 Are you bored looking for something different in the way of training?
Something that will test your strength in a different way?
Something that is practical, yet result producing?
Well, look no further!
Sandbag training provides all the above and even more!
Non-Traditional Strength Training
Believe it or not, sandbag training has been around a long time. People do it every day. They lift, move, toss, etc., luggage, duffel bags, bags of dog food, groceries, concrete, potting soil, etc.
Sandbags are an excellent training tool for football players, rugby players, and grappling arts including, wrestlers, martial artists, judo players, fighters, etc. They provide tremendous transfer value for building functional strength, stamina, and grip strength.
Sandbag training develops muscular endurance, cardiovascular fitness, as well as calling into play the all important stabilizer muscles.
Sandbags are great for strengthening ligaments and joint-ligament structures.
Hold, pressing, pushing, pulling, lifting, rowing, throwing, carries, drags and lifts provide a total body workout.
Sandbags are one of the most functional and least expensive pieces of strength training equipment available.
Ever dropped a barbell plate, rock or barrel on your foot? Hurts don't it? Sandbags are a great alternative, take my word for it!
Sandbags are an implement used at World Strongest Man Contests.
What This Training Manual Has to Offer
A well organized, highly informative instruction manual that shows:
How you can make different types and sizes of sandbags, buy a sandbag or an Army Surplus duffel bag, punching bag, etc.
How to determine the appropriate weight of sandbag in proportion to the trainees body weight.
The author describes dozens of creative exercises, that cover a wide variety of difficulty levels which make them very effective. Holds, carries, drags, squats, lunges, step-ups, deadlifts, pulls, presses, time holds, etc.
Several sample workout training programs complete with demonstration photos and clear explanations using sandbags.
How to integrate sandbag training with your current physical training regimen. Team and partner training.
And, much, much, more!
Here Are Some Testimonials to
The Complete Sandbag Training Course by Brian Jones:

"After the first time I incorporated sandbag training into my normal routine, I could hardly move the next day! Sandbags work muscles like no other way!"
Jim H.
Shreveport, Louisiana

"Sandbags take getting used to. For strengthening of the grip, they can't be beat! Glad I picked up a copy of this book."
Carl S.
Pittsburgh, Pennsylvania

"The Complete Sandbag Training Course by Brian Jones has worked wonders for my total body strength. I highly recommend it to anyone!"
Steve W.
Newport, Rhode Island
About the Author
Brian Jones is a CSCS certified strength coach, a USA Weightlifting club coach, and has over 20 years of martial arts experience. He has helped countless trainees from high school athletes to professional athletes to non-athletes of all ages.
Practical, economical, resulting producing…as you can readily see sandbag training will set the stage for you to develop the kind of functional strength that is directly applicable to your specific sport.
Get your copy today and start getting into the best condition of your life!
Yours for greater strength,



Bill Hinbern
Super Strength Training
This 6 x 9 softcover training manual has 48 pages and over 125 photos with a beautiful color cover. A Great book!
The Complete Sandbag
Training Course
by Brian Jones
$ 13.95 + S&H