In Stock Ready to Ship!
Sandow the Magnificent
Eugen Sandow and the Beginnings of Bodybuilding
by David L. Chapman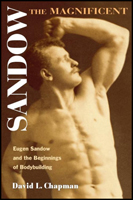 "The strongman whose pioneering focus on physique built an entertainment empire"
Of all the old time strong man biographies that I've see, and I've seen a few, this one is tops! A scholarly work, jam packed with well researched documentation by the author who brings you Gallery of IronMen each month in Ironman magazine.
You'll read startling facts about this world famous stage performer and bodybuilding pioneer never before revealed!
Read about how Sandow and the famous Florenz Ziegfeld Jr. helped each other get started in show business.
Beautiful photographs culled from the author's world famous rare Sandow photograph collection round out this masterpiece making it sure to be a highly sought after collector's item in the very near future.
This is undoubtedly the finest biography that I have ever read about an old-time strongman.
A real tribute to the man who started it all!
Before Arnold Schwarzenegger, Steve Reeves, or Charles Atlas, there was German-born Eugen Sandow (1867-1925), a muscular vaudeville strongman who used his good looks, intelligence, and business savvy to forge a fitness empire.
David L. Chapman tells the story of the immensely popular showman who emphasized physique display rather than lifting prowess. But he also looks at Sandow's success off-stage, where the entertainer helped found the fitness movement by establishing a worldwide chain of gyms, publishing a popular magazine, selling exercise equipment, and pioneering the use of food supplements. Chapman explains physical culture's popularity in terms of its wider social implications while delving into how Sandow, by making exercise fashionable, ushered in the fitness craze that continues today.
Table of Contents
Preface
1. The Early Years, 1867-89
2. The First Triumph, 1889
3. A Growing Reputation, 1890-93
4. New York and Chicago, 1893-94
5. The Tour of America, 1894-96
6. A Growing Business, 1897-1901
7. Triumphs and Travels, 1901-7
8. The Final Years, 1908-25
Afterword
Acknowledgements
Glossary of Weightlifting Terms
Notes
Bibliography
Index
About the Author
David Chapman, a Seattle-based independent scholar, has written many books and articles on physique photography, sport history, gender studies, film and popular culture.
He worked on the translation of Edmond Desbonnet's massive French history for more than three decades.
Read What These Iron Game Authorities Are Saying About "Sandow the Magnificent: Eugen Sandow and the Beginnings of Bodybuilding" by David L. Chapman
"Sandow the Magnificent displays a deft prose style and an intriguing presentation of the great man's life. . . . Serious students of iron history who do not obtain this book should consider redefining themselves."
Joe Roark
Iron Game Historian

"A fascinating story. . . . Arnold, eat your heart out!"
Elliot J. Gorn
editor of Muhammad Ali: The People's Champ

"Chapman has written a first-rate biography and one that will continue to play an important role in our understanding of the body and the world of physical culture."
Jan Todd
Journal of Sport History

"Excellent biography of Eugen Sandow, the father of bodybuilding. I found this book intriguing, captivating, but most important interesting. If you are interested in life during the Victorian Age, this book is definitely a plus. Sandow was definitely an opportunist an astute businessman, who made health and fitness a marketable commodity during the Victorian Age. There is no question that Sandow paved the way for the fitness industry. Only if he knew what he started more than 100 years ago."
Adrian J. Tan

"Eugene Sandow was the father of the modern fitness movement, developing a system of exercises that are still among the best available to those men and women who wish to realize their full physical potential. Chapman has written a well crafted study of a very complex individual."
Colin Williams

"Interesting historical perspective and facts about one of the early pioneers of body building and physical culture.
Enjoyable and interesting – have read it twice."
Kenneth Sepp
Plano, Texas

"David L. Chapman does an amazing job at piecing together the life story of Eugen Sandow, who was part workaholic, part legit, and part hype. What makes Chapman's coverage of Sandow so impressive his near disclaimer in the preface: that despite there being plenty of print on Sandow from his heyday, how much of it is reliable is questionable. Chapman sounds almost dismissive of his end result, but by piecing together multiple sources of Sandow's history, he has done an excellent job portraying which aspects of Sandow's works were impressive, which aspects were marketing hype. Sandow is neither deified nor demonized; this is a biography written the way biographies should be written.
If you are a fan of bodybuilding or pop-culture, this book is an essential addition to your library. This is one of the most underrated biographies I have read in quite some time. David Chapman's notes and bibliography are impressive alone (and there are SO MANY books on pop-culture history that penny-pinch in this department). This book will reel you in at the beginning, and hold your attention until the last page."
K. Brown

"I had been looking for many years to find a book about Eugen Sandow. I remember my grandfather had a magazine article about Sandow and how he could do chinups with any one of his ten fingers. Sandow's feats of strength described in this book were truly amazing and as the book indicates, Sandow was the "father of modern day body building." I would recommend this book."
Mark A. Cole
This new edition has been revised and enlarged with an afterword that includes unpublished information, new photographs of Sandow and his contemporaries, and an updated index.
Yours for greater strength,



Bill Hinbern
Super Strength Training
Order a copy of this 6 x 9, softcover book, with 264 pages and rare photographs! Highly recommended by Iron Game historians and those who love the old time strongmen throughout the world!
Sandow the Magnificent
Eugen Sandow and the Beginnings of Bodybuilding
by David L.Chapman
$ 22.95 + S&H