Thinking of Getting Bigger and Stronger?…

Start Production Today!
The Production of Muscular Bulk
by Michael J. Salvati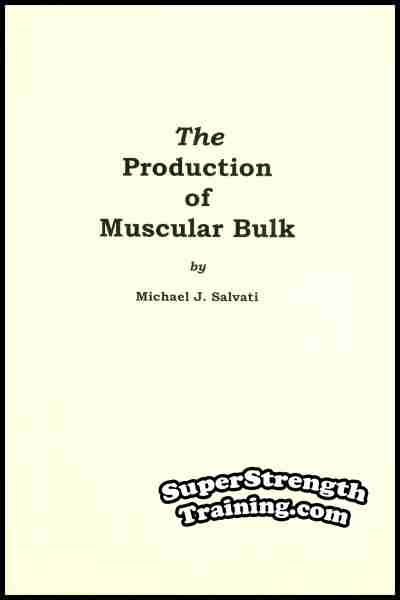 This is the first book ever written on the subject of building muscular bulk and power.
Originally published in 1965 by another famous writer for Peary Rader's "Iron Man" Magazine.
The author has spent many years studying the most effective exercise and nutritional methods used by champion gainers, – some gained a pound a day and some 100 lbs. or more in a year!
He carried out personal experiments on himself and made a thorough study of chemistry, physiology, foods and anatomy, to arrive at these scientific programs.
Believe me, Salvati leaves no stone unturned when revealing his discoveries. Much of the material had never been published before!
The Original Get Big and Strong Book!
Everyone wants to gain Muscular Bulk.
Muscle is heavy, so you must gain weight if you are to add muscle tissue.
The man who bulks up with solid muscle quickest, is the man who knows the proper methods.
There are no secrets to gaining muscular size and strength, but there are some methods that are sensationally more effective than others.
Opening this book is like opening the notebook of a scientist in his laboratory studying the effects of various experiments in building muscular size and strength in the human body.
Here's what you can expect to learn from reading this landmark publication:
Food elements and their relationship to muscular growth including a complete study of protein, carbohydrates and fats.
The difference between water-soluble and fat-soluble vitamins.
The importance of minerals and water for the complete utilization of vitamins.
Successful bulk-gaining programs of Paul Anderson, Doug Hepburn, Armand Grant, Bruce Randall, Vern Bickel and the author.
Caloric requirements and forced feeding, liquid diets, reflex action, high-protein diets, continuous feeding, feeding during exercise, nocturnal consumption of solid foods, applying the dietary principles to average living conditions.
A comparison of naturally high-protein foods and artificially prepared products.
A complete listing of the all important energy foods.
Sources of a variety of supplementary foods.
The famous "6-meal-a-day-plan".
Even a special X-Plus high protein drink you can make at very low cost.
Pertinent physiological processes in muscular growth. Including a discussion of muscle structure, muscular contraction and the effects of exercise on muscular growth.
The 8 best exercises for producing the maximum increase in over all muscle-mass.
Understanding isolation exercises.
The quick lifts vs. brute-strength exercises.
Understanding and putting to use the split system.
How the frequency of your workouts will effect your recovery time and overall success.
A complete guide to the basic exercise systems including: conventional isotonic exercise, the blitz system, isometric contractions, the Ross System, isometronic exercise, etc.
Hard facts about anabolic steroids including their chemistry, effects, usage, androgenic and metabolic side effects.
And much, much more!
Don't delay, make sure you get your copy of this book today!
Read What Others Have to Say
About This Book:
"For anyone interested in bulking (not getting fat) with muscular mass I suggest getting a copy of 'The Production of Muscular Bulk' by Michael Salvati from Bill Hinbern. This book takes the correct (I never bought into this until now) position that diet is MORE important than exercise. I always just agreed with Arthur Jones that it really didn't matter what you ate as long as you HIT trained to failure (another huge misconception) and did only ONE set per body part (yet another fallacy). This book has it all: Diet, Exercise even a small chapter on steroids. It also contains a recipe to make a high protein effective protein powder replacement. I NEVER expected this book to TOTALLY remake my entire understanding of how to 'Get Big', but it has without a doubt."
Mark Winchester
Denver, Colorado

"Hi there! Would you believe it, no sooner do I ask for a delivery date for 'The Production of Muscular Bulk' by Salvati, my wife phones me in work, my dads got the book this morning! As you can tell my dad's a bit of a fit person, ex power lifter for Wales in the late fifty's. He still runs marathons in Wales and London. You got me out of a jam. My dad lent me the book 15 years ago. I lost it in a house move. Thank you and your team of staff for the efficiency in delivering and correspondence from Mike and my very happy dad…"
Mike H.
Britian, United Kingdom
Yours for greater strength,



Bill Hinbern
Super Strength Training
A 6×9 softcover book with 7 chapters and over 107 pages.
The Production of Muscular Bulk
by Michael J. Salvati
$ 14.95 + S&H

See The Bigger and Stronger Collection here:
Click on the following link to see…