"The Bigger and Stronger Collection!"

A Complete Library of 5 Classic Books and Courses Specifically Written to Show You How to Build Muscular Strength and Size.
Here's a valuable collection of result producing information that I have culled from my extensive Iron Game library.
I have gathered together, what I feel, is some of the best information for those that wish to get bigger and stronger, fast.
These three authors, in their own right, are famous for developing muscular size and enormous strength.
Through experimentation, they have developed their own unique training routines and techniques.
You will find hundreds of exercise routines, selection of training equipment, training tips on which exercises work best, what to eat for packing on muscle, recuperation, sleep habits, recreation, over-training, time off, etc., etc.
Take a moment and read about what each individual title has to offer: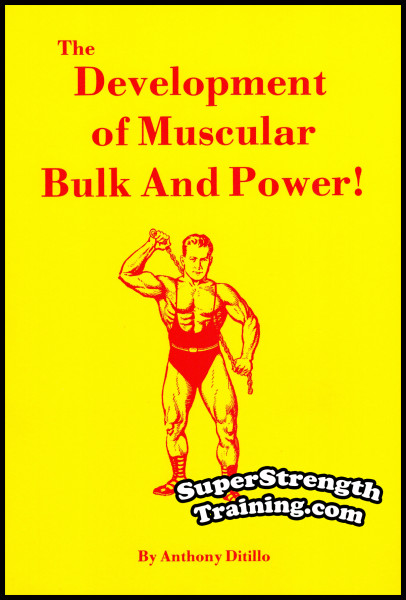 Originally written in 1971 by a famous writer in Iron Man and Milo magazines who has proven on his own body that he knows what he is talking about.
It details all you need to know about building muscular bulk and great power in the shortest period of time.
Topics include: training dedication; physical limitations; forming realistic goals; training motivation; over training; heavy vs light training; various diet plans, menus and food supplements for gaining muscular bodyweight at reasonable cost; anabolic steroids, their use and abuse; the myriad of sets and repetitions; basic and necessary training equipment; rack work; one-lift specialization; the three basic power lifts; bulk and power in the legs and back; a massive chest; broadening the shoulders; powerful arms; complete bulk and power training routines; program schedules and philosophy of bulk and power building; etc.
If you want the greatest results in the shortest possible time, do not overlook this book and its result-producing information.
Written by a veteran powerlifter who continued to lift maximum poundages throughout his life! Available again for a limited time only.
Get your copy while the supply lasts!
A beautiful 6 x 9, softcover book, with 7 chapters and over 139 pages! Only $ 19.95 + S&H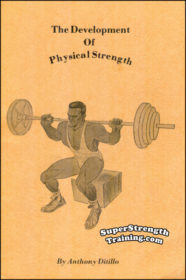 Originally written in 1982 by one of the top authors in Iron Man and Milo magazines who developed a real super physique for himself.
The author trained up to over 300 lbs. of solid muscle and back down to 190 lbs. of cut up muscle!
You, too, can discover how to control your muscular bodyweight at most any poundage desired.
This book is very popular with those who want honest, result producing information and is filled with the kind of material that you need to solve your training problems and help you make the most progress that is possible for your physical type.
All types of training schedules are discussed and compared for their results.
Topics include: the single and double progression method; rack training, isometric and isometronic training; sets & repetitions; intensity; training volume; bench press, squat, deadlift, back and one-lift specialization; weight gaining diets; heavy dumbbell training; etc.
Great Strength with equally great Muscular Development can be YOURS by following the information found in this book.
This is the companion volume and a great addition to the author's first book!
Hurry, get both books while limited supplies last!
A beautiful 6 x 9, softcover book, with 5 chapters and over 137 pages! Only $ 19.95 + S&H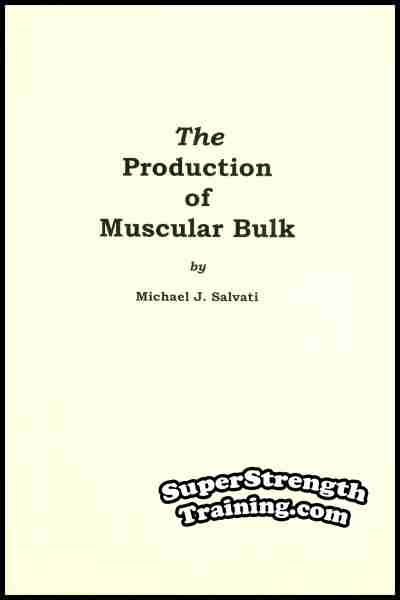 Originally published in 1965.
Everyone wants to gain Muscular Bulk. Muscle is heavy, so you must gain weight if you are to add muscle tissue.
The man who bulks up with muscle quickest is the man who knows the proper methods.
There are no secrets in gaining muscular size and strength, but there are some methods that are sensationally more result producing than others.
The author has spent many years studying the most effective exercise and nutritional method combinations used by champion gainers,—some gained a pound a day and some 100 lbs. or more in a year!
He has carried out personal experiments on himself and has made a thorough study of chemistry, physiology, foods and anatomy, to arrive at these scientific programs.
You will learn about; muscular growth, metabolism, the "6-meal-a-day-plan", the Blitz system, the Ross system, the Rest-Pause system, split schedules, frequency of workouts, sleep, rest, food supplements, special diets, even a special X-Plus high protein drink you can make at a very low cost, etc.
A beautiful 6×9, softcover book, with 7 chapters and over 107 pages! Only $ 14.95 + S&H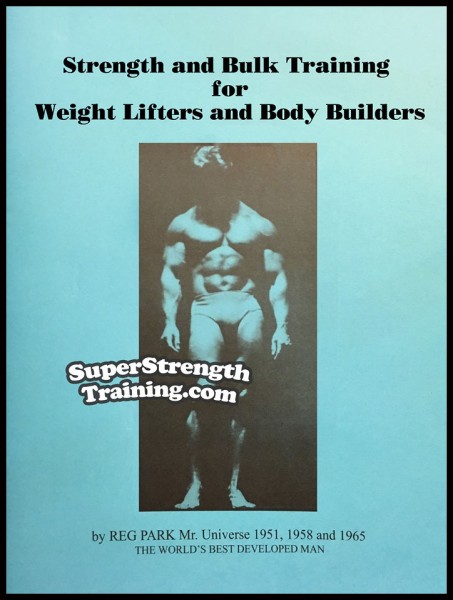 Any time the conversation turns to muscular bulk and power, the world famous name of Reg Park comes to mind.
Reg brought physical development to an all new high by winning the NABBA Mr. Universe Contest THREE times and by being the FIRST bodybuilder to bench press over 500 lbs.!
Park was the idol and mentor of the great Arnold Schwarzenegger!
This is Park's classic course detailing his original 5×5 training system, including valuable information on classification of body types, poundage, overloading, stabilizing, regularity of training, weight progression, diet, rest, layoffs, record keeping, sticking points, limit poundages, single attempts, boredom, injuries & stress, strength training for athletes, attitude & exercises that Reg used to build his awesome size & strength.
The course includes THREE different training routines for weight lifters and THREE for body builders.
It demystifies how to make steady continual progress.
An absolute must if you want huge gains in muscular bulk & power NOW!
A beautiful 8½ x 11, softcover, training manual, fully illustrated, with 24 pages! Only $ 19.95 + S&H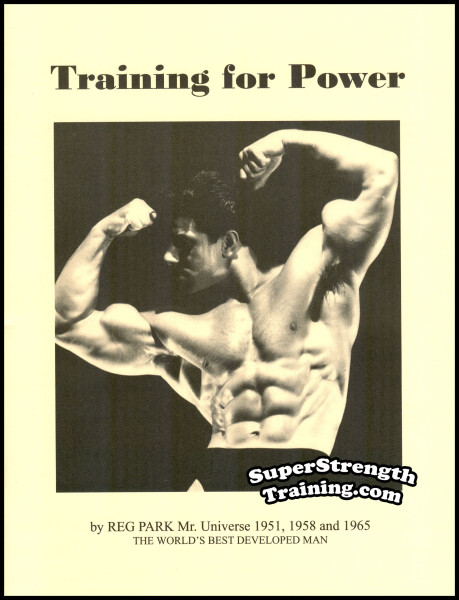 In the 1950s, Reg Park could do a Standing Dumbbell Military Press of 258 lbs., a Bench Press of 500 lbs., a Squat of 600 lbs., and a Deadlift of 700 lbs.!
Poundage like this was unheard of prior to that time!
In this course Park discusses strongmen like Marvin Eder, John Grimek, Stan Stanczyk, Buster McShane, and Bill Parkinson.
When Park visited America, during this time, he trained along side, Marvin Eder, "The Biceps from the Bronx", at Abe Goldberg's Gym in New York.
Those fabled marathon training sessions and the weights used are legendary!
Here, Reg Park offers his famous two 4 week training schedules of 11 different exercises with illustrations.
All that is needed is a pair of adjustable plate loading dumbbells, a flat bench, squat stands, parallel bars, and two heavy boxes.
SPECIAL BONUS! Along with the above training information, I have included Reg Park's, "How I Trained for the Bench Press."
This is the EXACT training schedule, including the FIVE exercises, that Reg Park used to become the FIRST bodybuilder, and SECOND man in the World, to Bench Press 500 pounds!
A beautiful 8½ x 11, softcover, training manual, fully illustrated, with 24 pages! Only $ 15.95 + S&H
Great Information?
I thought you would be impressed.
You'll find answers for all of your GET BIG questions.
There are ideas and suggestions that will make you think more clearly when you plan your next training regimen.
You'll be pushing through those sticking points, times your routine gets stale, and times you get bored.
Here's What Others Say About…
"The Bigger and Stronger Collection"
"I was blown away by the overwhelming amount of training information found, not in just the entire collection, but in each book!"
Paul T.
Midland, Texas
"Thank you, Mr. Hinbern, for the best selection of strength training books that I could imagine! I could not wait for the books to arrive, so I cleaned up my gym and rearranged my bench and weights. Then when the books arrived, I couldn't wait to get started! Now, I can't wait for the results! Thank you, again, Mr. Hinbern!"
Mark A.
Burnsville, Minnesota
"Just wanna say thanks so much Bill for making all these awesome strength books available."
Alan R.
Perth, Australia
"Glad you finally put these books together as a collection. I could never decide which one to order. Now, I know! Thank you for giving a money saving money saving offer for all five. I know I can't go wrong!"
Phillip C.
Virginia City, Montana
"Wow! I'm half way reading through 'The Bigger and Stronger Collection,' and can't believe how much valuable information is there. Now I have a wider variety of training routines to choose from. Thanks, Bill!"
Joe S.
Chesapeake, Virginia
Order today and get ready to go out and buy bigger shirts and pants!
The information found here will make you pack on muscular body weight in record time.
Best wishes,



Bill Hinbern
Super Strength Training
"The Bigger and Stronger Collection" containing All 5 classic publications containing over 435 pages, routines, nutritional information, etc.
For a Limited Time Only…
The Bigger and Stronger Collection
(click on any image to read more!)
all 5 "Bigger and Stronger" titles
Regularly $ 90.75
Save $ 14.95!!!
Order NOW for ONLY $ 75.80 + S&H