The Rader Master Bodybuilding
and Weight Gaining System
by Peary Rader
The Original Editor and Publisher of "Iron Man Magazine"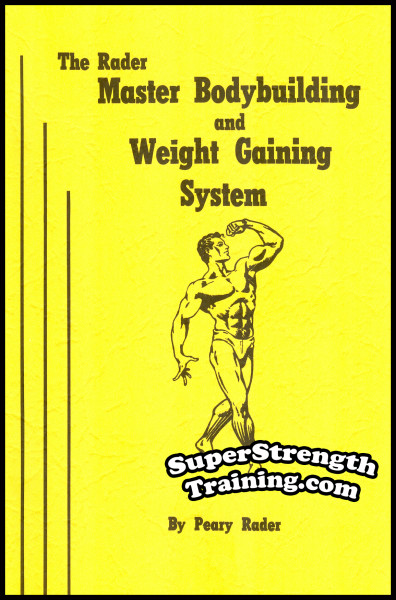 Peary Rader wrote his formula for success in 1946 and revised it in 1956.
This is considered by many to be the most effective and result producing muscle building course in existence.
Many have gained 30 lbs. of muscle in one month by following this course.
Some have gained 100 lbs. of muscle in a single year by using the methods described in this course.
Ten to fifteen pound weight gains are quite common.
Complete details on correct exercise for bulking up, weight gaining, muscle building and the all important nutritional information.
Courses for specialization and for trimming down.
It contains a wealth of bodybuilding information the author gathered over a 40 year period of study, research and experiment.
All this written in easy to follow and understand language, condensed to essentials.
Here's the Information You've Been Looking For:
Learn about the history of these bodybuilding and weight gaining methods.
How important is previous exercise experience?
How to arrangement your training program for maximum results.
How to keep accurate workout records.
The relationship of age to fast gains in size and strength.
Developing correct living habits to improve your health and well being.
Hard work, the all important mental approach to your training.
Discover how important sleep, rest and relaxation is to your success.
The importance of bathing and massage.
Proper nutrition for optimum weight gain and the famous "six meal a day" plan.
Learn about frequency of workouts and layoffs to avoid overtraining.
Foster the habit of correct posture.
The secret of the number of repetitions and when to add weight.
A discussion about different breathing methods.
The use of cambered or bent bars and loading racks.
Different positions for squatting.
How to develop a huge chest cavity for improving your squat.
Details for building a dead lift hopper.
Specialization programs for the neck, arms, forearms, pectorals, deltoids, back, legs, calves, and abdominals.
Training for the older man and setting realistic goals.
The rebound principle of developing muscle and strength.
Examples of different repetition schedules.
Specialization on one exercise for maximum gains.
The use of short movements for power and development.
How to shape up after a weight gaining program.
An abbreviated program of bodybuilding.
Muscle flushing or pumping.
The One Day Program of Specialization.
The Cheating Method of Exercise.
The Hise Breathing Shoulder Shrug.
The 1½ System
The Split Workout Program.
The Rader Squat Program.
The Eell's Bodyweight Squat System.
The Dead Lift Program for Weight Gaining.
The Clean and Jerk Program for Weight Gaining.
The Split Repetitions Program.
The Split, Pause Program.
The Rest Pause System.
The Rader High Chest Pull Program.
The Peak Contraction Method.
The Forced Repetition Method.
The Press, Chin, Squat Program.
The Clean and Press Squat Program.
The Clean and Jerk Press Squat Program.
The Specialized Squat Program.
Taking Your Measurements.
And much, much more!
What People Have to Say About
"The Rader Master Bodybuilding and Weight Gaining System"
by Peary Rader
"I've been interested in weightlifting and health and fitness for 35 years. I wanted to tell you how much I liked your reprint of Peary Rader's Master Bodybuilding and Weight Gaining System. After I had back surgery in 1994 (not due to an injury), I was advised to stay away from heavy exercise, so I stuck to dumbbells. I even developed a super-slow dumbbell routine that kept me in excellent shape, but did not produce much muscle mass. Enter Peary's course. After only 2 weeks on his abbreviated system (squats, clean and press, and row), I've already put on a few pounds of solid muscle."
Tom K.
New York, New York
"Bill, you got me hooked with Peary Rader's Master Bodybuilding and Weight Gaining System. I learned more from that little booklet than most of the current so-called strength and fitness gurus."
Daniel C.
Cedar Park, Texas
"I have several copies of 4 Iron Man Courses, that I bought from you…! I treasure them, as well as 1/2 of the original Iron Man magazines! Peary Rader told me that it isn't necessary to constantly change routines! That is how I trained my son, and now my grandsons!"
Ben M.
Anniston, Alabama
The most popular and successful weight training course ever written, with proven methods of muscle culture.
Yours for greater strength,



Bill Hinbern
Super Strength Training
A 6 x 9 softcover book with over 48 pages fully illustrated with over 40 photographs and illustrations!
The Rader Master Bodybuilding and Weight Gaining System
by Peary Rader
$ 19.95 + S&H

Check out these other courses by Peary Rader:
(click on any image to read more!)
The Peary Rader "Iron Man" Collection
For a Limited Time Only…
Order all 3 courses

for only $ 39.90 + S&H