In Stock Ready to Ship!
Taming the Bent Press
A Guide to the King of Lifts
by Dave Whitley
"The Iron Tamer"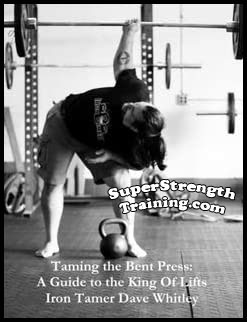 This is Dave's complete guide to learning the old-time strongman's favorite lift…
The Bent Press.
The old school method for putting MAXIMAL weight overhead with ONE HAND.
This book represents the culmination of over a decade of old-time strongman research and hands-on practice.
Whether you are an experienced Bent Presser, or just a beginner, this book will offer valuable training tips on proper form and the all important technique.
The following should give you an idea of how this book can help YOU…
Table of Contents Reveals 7 Fact Filled Chapters:
Acknowledgements
Introduction by Fabio Zonin
Foreword: Why the Bent Press?
Chapter One – Philosophy/History
Chapter Two – The Path of the Masters
Chapter Three – Practice, Performance and the Mentality of an Old-Time Strongman
Chapter Four – Preliminaries
Chapter Five – Progressions
Chapter Six – Performance
Chapter Seven – The Plans
Appendix One: Eight Directions
Appendix Two: Symmetry
Appendix Three: Bent but not Broken: The Flexible Steel Way by Jon Engum
Appendix Four: Unlock Your Bent Press with Original Strength by Geoff Neupert
Parting Thought from Uncle Tamer
About the Author
Read what others have to say about:
"Taming the Bent Press: A Guide to the King of Lifts"
by Dave Whitley
"Glad I ordered this book, when I did. It answered more than a few questions that I had."
John A.
Champlain, New York
"Very inspirational. The extra material in the back was very helpful, too!"
Anthony C.
Phoenix, Arizona
"Great book. Very helpful. Wished I would have had this book when I first started to do the Bent Press. It would have saved me a great deal of time."
Jay S.
West Haven, Connecticut
"Thanks, Dave, for publishing such a helpful training manual! It has helped me get passed some sticking points and add 25 pounds to my lift, the FIRST week!"
Scott S.
Birmingham, Alabama
Yours for greater strength,



Bill Hinbern
Super Strength Training
A beautiful 8 1/2 x 11 softcover book with 164 pages, 7 chapters, including 134 photographs!
Taming the Bent Press: A Guide to the King of Lifts
by Dave Whitley
$ 24.95 + S&H


<-- Return to the David Whitley page
See More Bent Press Publications here:
Click on the following link to see…