Dave Whitley
"The Iron Tamer!"
Famous Strongman, Lecturer, and Motivational Speaker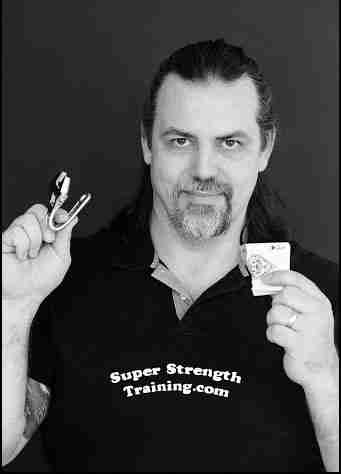 Imagine growing up in rural Tennessee, shy, overweight, with a terrible stutter.
That was the case with young Dave Whitley.
To avoid the teasing and humiliation, he retreated into a world of fantasy and comic books, longing to be powerfully strong and physically fit.
He dreamed of becoming "SuperHuman!"
After seeing champion bodybuilder, Lou Ferrigno, as the "Incredible Hulk" on TV, he began a love affair with strength that has lasted his entire life.
In the early 2000's, he became fascinated with old-time lifts, the Bent Press in particular, led him down the path of the old-time strongmen and he began studying the masters of the past such as Siegmund Klein and Arthur Saxon.
In 2006, he met his mentor, Grandmaster Strongman, Dennis Rogers, and began performing feats of strength.
Rogers took a liking to Dave and helped him hone his craft.
He soon earned the reputation as "A Strongman with a Strong Message…"
He became known as the "Iron Tamer"  and a motivational speaker, using his SuperHuman feats of strength to share his message with his audience.
Dave has given his motivational speeches, and performed his feats of strength, all over the United States, as well as, internationally, in Italy, Ireland, England, Czech Republic, Australia, Japan, and Korea.
He was featured in the German documentary, "Kraftakt," a film about strength.
Dave combines incredible feats of strength like bending steel, ripping decks of cards, breaking chains, with a powerful message, creating a presentation unlike ANYTHING his audience has ever seen before.
The feats he performs are used to illustrate the mindset needed to accomplish the impossible.
His purpose is to inspire the audience to leave their limitations behind and become the SUPERHUMAN version of themselves.
In 2020, Dave was appointed President of the "Oldtime Strongman University," by its founder, Grandmaster Dennis Rogers.
Here are a few of his astounding feats of strength:
Bending steel spikes, bars, and wrenches
Ripping decks of cards and phonebooks into shreds
Twisting horseshoes
Driving a nail through a board with his hand
Breaking chains
Leveraging sledgehammers
Want to Learn Dave's Secret of Doing the Bent Press?

This is Dave's complete guide to learning the old-time strongman's favorite lift…
The Bent Press.
The old school method for putting MAXIMAL weight overhead with ONE HAND.
This book represents the culmination of over a decade of old-time strongman research and hands-on practice.
Whether you are an experienced Bent Presser, or just a beginner, this book will offer valuable training tips on proper form and the all important technique.
The following should give you an idea of how this book can help YOU…
The Table of Contents of This Training Manual:
Acknowledgements
Introduction by Fabio Zonin
Foreword: Why the Bent Press?
Chapter One – Philosophy/History
Chapter Two – The Path of the Masters
Chapter Three – Practice, Performance and the Mentality of an Old-Time Strongman
Chapter Four – Preliminaries
Chapter Five – Progressions
Chapter Six – Performance
Chapter Seven – The Plans
Appendix One: Eight Directions
Appendix Two: Symmetry
Appendix Three: Bent but not Broken: The Flexible Steel Way by Jon Engum
Appendix Four: Unlock Your Bent Press with Original Strength by Geoff Neupert
Parting Thought from Uncle Tamer
About the Author
Read what others have to say about:
"Taming the Bent Press: A Guide to the King of Lifts"
by Dave Whitley
"Glad I ordered this book, when I did. It answered more than a few questions that I had."
John A.
Champlain, New York
"Very inspirational. The extra material in the back was very helpful, too!"
Anthony C.
Phoenix, Arizona
"Great book. Very helpful. Wished I would have had this book when I first started to do the Bent Press. It would have saved me a great deal of time."
Jay S.
West Haven, Connecticut
"Thanks, Dave, for publishing such a helpful training manual! It has helped me get passed some sticking points and add 25 pounds to my lift, the FIRST week!"
Scott S.
Birmingham, Alabama
Yours for greater strength,



Bill Hinbern
Super Strength Training
A beautiful 8 1/2 x 11 softcover book with 164 pages, 7 chapters, including 134 photographs!
Taming the Bent Press: A Guide to the King of Lifts
by Dave Whitley
$ 24.95 + S&H

See More Bent Press Publications here:
Click on the following link to see…