Olympic Weightlifting Champion, Dead at 92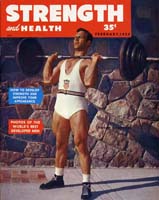 The great Norbert "Norb" Schemansky, of Dearborn, Michigan, has passed on to join other Olympic Weightlifting legends such as, Tommy Kono.
He passed away, quietly, September 8th 2016, while being cared for by hospice.
Nicknamed, "Mr. Weightlifting", or "The Professor", during his career, "Ski" was the FIRST Olympic weightlifter to win FOUR medals.
Schemansky was a member of the world famous York Barbell Club, during its heyday, when nearly every member of the team took home a an Olympic medal, at one time or another.
As a heavyweight, in his first Olympic Games, he won a silver, in the 1948 Summer Olympic Games, in London, a gold medal, in the 1952 Summer Olympic Games, in Helsinki, and a bronze, in the 1960 Summer Olympic Games, in Rome, and, again, in 1964, in Tokyo.
Schemansky was also a three-time World Champion…
A silver medal in Philadelphia in 1947
A gold medal in Milan in 1951
A gold medal in Stockholm in 1953
A gold medal in Vienna in 1954
A silver medal in Budapest in 1962
A silver medal in Stockholm in 1963
He was also a gold medalist in the Pan American Games in Mexico City, in 1955.
He was a nine-time National Champion…
1949, 1951, 1952, 1953, 1954, 1962, 1964, 1965, 1967.
During his long weightlifting career, from 1947 through 1972, he set 13 official and 11 unofficial world records.
His best lifts included a 415lb clean & press (back when that lift was contested in weightlifting competition), 363lb snatch (done in the "split" style), and 445lb clean & jerk.
He also squatted over 600lb, deadlifted 630lb, benched 440lb, and curled 225lb.
In addition to his Olympic weightlifting accomplishments, on October 14th 1954, in Lille, France, he became the THIRD man, after Charles Rigoulot and John Davis, to lift the famous Apollon Train Wheels.
He "cleaned" the cumbersome, thick-handled, 366 pound, weight and was the FIRST ever to jerk it three times in succession!
He was born in 1924 and raised in Detroit along with three brothers and four sisters.
His brothers Dennis, Ralph and Jerome were also weightlifters.
In 1959, he moved to Dearborn, Michigan, where he worked for the city and lived the remaining 56 years of his life.
A park in Dearborn is named in his honor.
Prior to his years of Olympic weightlifting competition, Schemansky served in World War II with the 184th Anti-Aircraft Artillery Battalion and fought at the Battle of the Bulge.
In 1976, Schemansky was inducted into the Michigan Sports Hall of Fame.
In 1979, he was inducted into the Polish-American Sports Hall of Fame.
In 1997, he was inducted into the International Weightlifting Federation Hall of fame.
In 2005, on the occasion of its 100-year anniversary, the International Weightlifting Federation recognized Schemansky (along with Tommy Kono) as "Best Weightlifter of 100 Years."
Although he had a reputation for being, somewhat, bitter, he may have had something to be bitter about.
Keep in mind, back in the day, Olympic athletes were treated nothing like those of today.
They were all kept strictly as amateurs and watched very closely.
There were no lucrative endorsements, etc., for those that won the gold.
For example, he asked for an UNPAID LEAVE from his job at Briggs Manufacturing to train for the the 1952 Senior National and Olympic trials.
His employers response was, "Tell him he can have all the time off he wants. He's fired!"
He left Briggs Manufacturing for good and began training for the Nationals and the Olympics in Helsinki.
Every time Schemansky left home to compete he had to worry if he had a job to come home to.
If it wasn't for his wife's job as a secretary, their family would have lost everything.
To Norb, weightlifting was his life.
He was also well known for his wit and dry sense of humor.
Upon arriving from one of his many travels, a young weightlifting fan asked him how the food was overseas.
His response was, "We didn't go over there to plug the toilet!"
Another time, during a weightlifting meet, a young man approached him and asked…
"Mr. Schemansky, how do I improve my squat?"
Norb looked at him and replied, "Squat."
Looking somewhat bewildered, the young admirer asked, again…
"Yes, but what exercises do I do, to improve my squat?"
Schemansky became frustrated, thinking that the young man didn't hear him, and replied, again, only this time much louder, "Squat!!!"
And then walked away.
Until the next time…
Yours for greater strength,


Bill Hinbern
Super Strength Training
P.S. Oh, and by the way, speaking of the York Barbell Club. If you have ever been to the York Hall of Fame, in York, Pennsylvania, you'll notice a giant rotating weightlifter atop the York Barbell facility, along Interstate 83.
That rotating Barbell Man was fashioned after the great Norbert Schemansky…
P.S.S. "So gently does he set his sandal down, That only when he passes can be seen, The mighty footprints where his feet have been."