The Text Book of
Weight-Lifting
by Arthur Saxon
The Iron Master!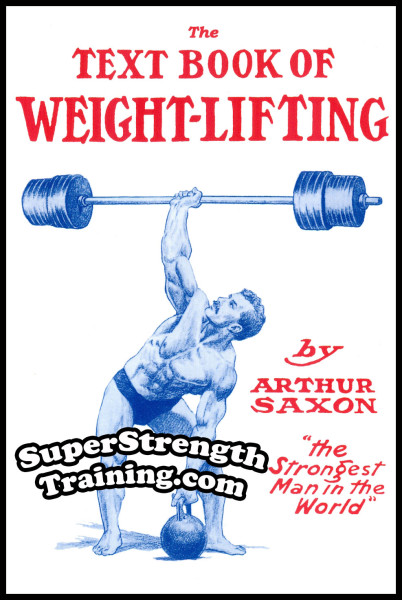 Back in print! For now at least the best book on the training methods of the old-time strongmen that I've seen.
Opening this book of 1910 gives you the feeling you've opened the training manual of strongmen of yore.
It's filled with rare never before published photos of the great Arthur Saxon, world famous professional strongman and circus performer billed as, The Strongest Man on Earth!
(He personally posed for each and every lift! This alone is worth the price of the book!)
It's just the right mix of rare nostalgic photos and practical training information.
What were his training methods?
Rare information?
One of the very few books describing in detail the training methods of the old-time strongmen of the day, before vitamins, steroids or plastic surgery!
Chapters Include:
I. Weight-lifting, The Best Exercise
II. Clean Lifting
III. The Bent Press
IV. The Continental Lifts
V. Ring, Ball, and Square Weight-lifting
VI. Weight-lifting Exercises
VII. Exhibition & Trick Weight-lifting Feats
Testimonials for
The Text Book of Weight-Lifting
by Arthur Saxon
"I was very pleased with the Saxon book it is very interesting. I hope you have allot of success with the Saxon book."
R.S., London, England

"I certainly did enjoy your The Text Book of Weight-Lifting by Arthur Saxon."
Robert F., Jericho, New York

"The large format photographs are superb quality and really hammer in an insight of the past, olden day strongman. This is the finest reproduction of such an old and rare book I reckon I've ever seen and the drawings of Saxon are terrific!"
Mike T., London, England

"The Text Book of Weight-Lifting by Saxon is a real gem. It is wonderful how almost 100 years later, people of the Iron Game can share in the wealth of knowledge of one of the Old Masters like Saxon. Hats off to you on this one!"
Lou T., Howell, New Jersey

"As I previously mentioned, The Text Book of Weight-Lifting by Arthur Saxonwas worth every cent I paid and then some! I'm sure this book will be of value."
Glenn C., Milwaukee, Wisconsin

"The Arthur Saxon book is one of, or is, the best of all my 'muscle books'. Thanks for the great work!"
Stephen D., Mount Hermon, California
This IS a Classic Book, especially for someone who loves to read about real old-time strongmen and HOW they trained.
A great gift idea!
Yours for greater strength,



Bill Hinbern
Super Strength Training
Highly recommended, you'll really like this beautiful 5 x 7 softcover book with 85 pages, 7 chapters, 30 photos and beautiful artwork and a glossy two-color cover. Order a copy today!
The Text Book of Weight-Lifting
by Arthur Saxon
$ 14.95 + S&H

Click on either book by Arthur Saxon for more information:
For a Limited Time Only…
The Arthur Saxon "Iron Master" Collection
Order both books by Arthur Saxon
Regularly $ 29.90
Save $ 5.00!!!
Order NOW for ONLY $ 24.90 + S&H