New Release!
In Stock Ready to Ship!
Bradley J. Steiner's
"A Complete Guide to Effective Barbell Training"

Found in everyone's top ten list of all time favorite weight training books!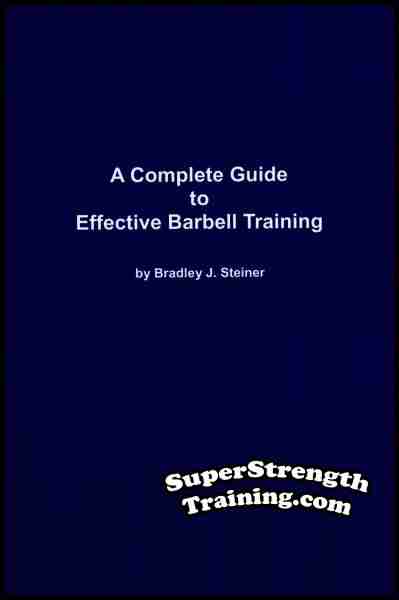 I wish I had a nickel for every time I've been asked for this book over the past 30 some years!
So, by special arrangement with the author, and the overwhelming popular demand, it is now available once again for a limited time only!
This Anniversary Edition commemorates the 38 years since this book first appeared in Peary Rader's Original "Iron Man" Magazine in 1974.
Written by one of the most famous authorities and instructors in the field of weight training.
Prof. Bradley J. Steiner was one of the most popular writers for Peary Rader's Original "Iron Man" Magazine for over 30 years!
This book was written and rewritten to condense it into an easily read and easily followed course of result producing weight training instruction.
Every paragraph has direct meaning and guidance for the reader.
Table of Contents Reveals 15 Fact Filled Chapters:
Introduction to this Reprint Edition
Preface
Introduction
Definitions
Chapter 1 – How It Works
Chapter 2 – Being A Bodybuilder
Chapter 3 – The Mental Aspects
Chapter 4 – The Role of Diet and Nutrition
Chapter 5 – Knowing Where You Stand
Chapter 6 – The Best Exercises
Chapter 7 – Shaping Exercises
Chapter 8 – The Best Basic Barbell Course
Chapter 9 – The Best Basic Dumbbell Course
Chapter 10 – The Best Basic Barbell and Dumbbell Courses
Chapter 11 – Gaining Weight
Chapter 12 – Losing Weight
Chapter 13 – Your Training and Related Activities
Chapter 14 – The Basic Set Systems of Training
Chapter 15 – The Wind-Up
Read what the author of
"Dinosaur Training"
has to say about this fabulous book!
"I bought this magnificent book when it was first published way back in 1974, and I read it and reread it until I memorized it.
It shaped my training — and my life — more than any other book I ever read — and I'm delighted to see that Bill Hinbern and Brad Steiner are bringing it back after so many years of 'rare and out of print' collector's only status."
If you want to learn the real truth about strength training and muscle building, grab this book and read it cover to cover!"
Brooks Kubik
Five-time National Bench Press Champion in drug tested competition
Read what others have to say about:
"A Complete Guide to Effective Barbell Training"
by Bradley J. Steiner
"One book has always eluded me. It was 'A Complete Guide to Effective Barbell Training' by Bradley J Steiner. When I use to buy every 'Iron Man' magazine back in the old days I figured I would get around to buy it but I never did. I could never find it with collectors who sold it either. Then It completely left my mind until I saw the latest catalog from Bill on the internet. I bought from Bill 30 plus years ago and it was a pleasure to deal with him again. If you're a fan of absolute hard core whole body basics nostalgia then this book should be in your collection. Do you really need 4 exercises for your biceps to get athletically strong? Basic training worked back in the day and it works now."
Richard B.
Bayville, New Jersey
"I read Bradley's articles in the old 'Iron Man', and 'Muscular Development' magazines and for the first time in my life actually began to build muscles and strength. He is the most honest writer in the field. If you can find a copy of this book, or any of his old weight training articles from the 1970's, grab them and do what he says.
Most people over-train. The whole idea of progressive resistance exercise is to overload your muscles, then rest long enough for them to recover… and a little bit longer so that they can overcompensate and become stronger in order to handle the load you place on them.
If you are not making satisfactory progress, try doing less."
Ed Bernd
Suffolk, Virginia
"I have owned Steiner's book for nearly 30 years. During that time I have seen and read many 'body building' books which purport to give the definitive answer to how to build muscle. Most of the current books are filled with pictures of professional body builders who are wild exceptions to normal people both in the time devoted to training and the techniques used (drugs, dehydration, dangerous diets). Steiner's formulas simply work, and they work at home without expensive equipment. Among Steiner's sound advice is the use of 1″ standard plates which better fit in homes and apartments, concentrating on the major muscle groups and avoiding the silly little exercises that work each finger, following the workout formula (a squatting movement of some kind, a pressing movement of some kind, a heavy back building movement of some kind, and at least two other major muscle group exercises, but never more than nine exercises), limiting sets to two for most people. With these techniques you will avoid injury and be able to maintain fitness for your entire life, not just in your twenties."
M. Coleman
New Paltz, New York
You will find information in this book that has not been available anywhere else—not sensational blue sky claims and promises, but down-to-earth, honest result producing information.
You are given the best exercises for the most effective gains and development of all parts of your body.
Yours for greater strength,



Bill Hinbern
Super Strength Training
A beautiful 6 x 9 softcover book with 112 pages, 15 chapters, including 73 photographs of the author posing for each exercise!
A Complete Guide to Effective Barbell Training
by Bradley J. Steiner
$ 19.95 + S&H