Brooks Kubik
Author of "Dinosaur Training: Lost Secrets of Strength
and Development"
The "Original" Dinosaur!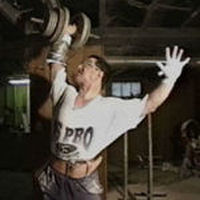 It all started with a young high school lad in Ohio who had a burning desire to become a champion high school wrestler.
One day, as he watched his father work out in their garage with adjustable plate loading barbells and dumbbells, he asked if that would help make him a better wrestler.
His father said, "I'm not sure if it will make you a better wrestler, but it will definitely make you much, much stronger".
The young man decided that getting stronger was worth a try, so he started lifting weights with his father.
In just a few months, he noticed his clothes were beginning to feel snug.
His chest, arms and legs were getting bigger.
After about six months friends and relatives were making comments about his remarkable physical transformation.Not only that, but when wrestling season started, he felt he had more endurance as well as an overwhelming sense of mental confidence.
Brooks Kubik had discovered that, for him, lifting weights gave him the edge he needed in wrestling.
So much so, that in his last year of high school, he became the Illinois State High School Wrestling Champion in the Greco Roman Style.
Later, he discovered that he would rather lift weights than wrestle.
So, he continued training with powerlifting as his main focus and eventually considered entering some of the local competitions.
Here are some of his accomplishments:
Multi-time state and regional powerlifting champion in drug tested competition (198 pound class)
Five-time National Bench Press Champion in drug tested competition (Sub-Master's Age Group, 198 and 220 pound weight classes)
Set over one dozen American, National and World records in the bench press in drug-tested competition (Sub-Master's Age Group, 198 and 220 pound weight classes)
Over the years, he continued to train the way he always had because he got great results.
One day, one of the members of the local gym where he trained, noticed his remarkable size and strength and started asking questions about his training methods.
Always eager to offer solid training advice, Brooks began to detail the training methods that he had used over the last 25 years.
He emphasized things like hard work, heavy weight, abbreviated routines, etc. Before he could finish, the young man interrupted and mockingly stated, "You've got to be kidding, nobody trains like that here…that's dinosaur training!"
Brooks just shook his head in dismay, not so much because of the rude interruption, but because the young man was absolutely right!
Nevertheless, the young man made a lasting impression.
So much so, that a light went on.
Brooks had had enough…right then and there, for the first time, he decided to write down his own ideas about weight training in book form. The name of the book, you guessed it…
That's right, Brooks Kubik coined the phrase, "Dinosaur Training." His book, the first of which, later proved to be of many, largely revolutionized the world of weight training.
Since then, he has written hundreds of magazine articles which have published in magazines and newsletters such as "HardGainer", "Milo", "The Iron Master", "The Dinosaur Files", "Ironman", and "Muscle and Fitness".
He has authored and published over 20 books, courses, newsletters and DVDs. And believe it or not, he still trains the same way he always has, in his garage gym with heavy adjustable plate loading barbells and dumbbells.
Just as he has done for over 40 years!
Yours for greater strength,



Bill Hinbern
Super Strength Training
And if you want to learn the same real world, no nonsense, result producing, training methods, check out the following publications by Brooks Kubik:
(click on any image to read more!)
You Won't Want to Miss the Famous "Legacy of Iron" Series
by Brooks Kubik:
(click on any image to read more!)