Secrets of My Strength
by Paul Anderson
"The Dixie Derrick!"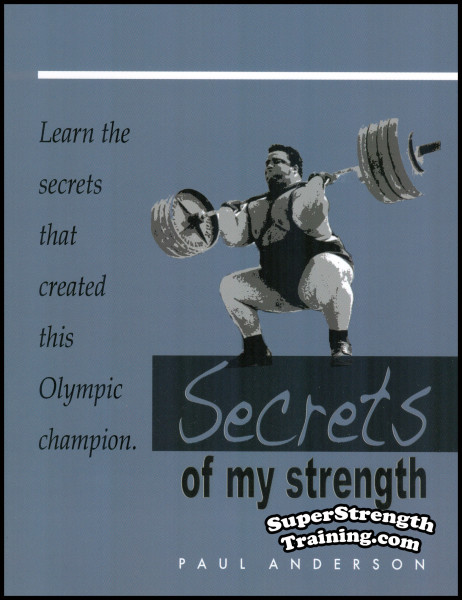 In 1970, the first, official weightlifting course was offered by Paul Anderson.
It presents some unique, basic ideas on lifting to enhance size and strength.
Learn the secrets taken from the private journal that created this Olympic weightlifting champion so that, you too, can reach your fullest potential in physical achievement.
Read about his unique personal nutritional background and discover what he found to be the best high protein and vegetable sources.
Discover Paul's key to preparing for personal records and competition through proper mental attitude.
The author shares his personal weight lifting history with you so that you may understand how and why he trains like he does.
A valuable chapter on Paul's favorite weight lifting routines complete with Paul shown performing the exercises.
Yours for greater strength,



Bill Hinbern
Super Strength Training
An 8 1/2 x 11 softcover book with 27 pages, 4 chapters, including 19 photographs!
Secrets of My Strength
by Paul Anderson
$ 19.95 + S&H

More Weight Lifting Publications by Paul Anderson:
(click on any image to read more!)
For a Limited Time Only…
The Paul Anderson Collection
All 3 titles by Paul Anderson
Regularly $ 59.85
Save $ 5.00!!!
Order NOW for ONLY $ 54.85 + S&H