The Strength of Samson
How to Attain It
"Strength Secrets of the Biblical Samson"
by Michael H. Brown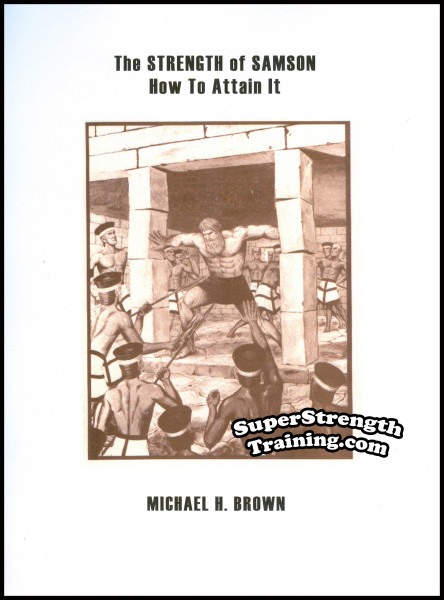 Brown's approach is a most unusual one. He himself is a longtime bodybuilder and practical nutritionist who has taken and interpreted a number of key health-related Biblical passages to develop an overall regimen that is sure to do the conscientious reader some powerful good.
You will learn about diet, exercise, proper living, attitudes and the development of sheer physical strength in a way that is not only radical, but heretical.
Maybe you're not into slaying a thousand Philistines with the jawbone of an ass, but old Samson didn't accomplish that or the singlehanded destruction of one of their palaces by chomping on Wonder Bread, slurping homogenized milk or jogging through the streets of ancient Gaza in $90 Reeboks!
He had a diet, a regimen, which had scientific reasons behind them–a method which, when viewed in the light of what we know today–will enable the average man to accomplish levels of strength that may even surpass those of the Biblical Strongman.
A Few of the Things You Can Expect to Learn From One of Physical Culture's Mightiest Teachers:
After 36 years of training and over 33 years of Bible study the author has come up with these 17 Basic Principles for health and strength.
Discover Samson's actual strength level…you may be surprised.
Find Biblical references to Samson's nutritional regimen. "Eat Not Any Unclean Thing" Judges 13:4 (The Levitical Diet)
A complete guide to the Nazarite diet.
The truth about vitamin dosage and the risk of overdosing.
Whole chapters on losing weight, fasting, water and herbs.
Samson's dianabol is found on your grocer's shelf.
An explanation of what to eat and how to eat it for the fastest route to muscular growth.
An explanation of the dangers of alcohol consumption in biblical times.
Giving Your Strength to Women – learn how having sex effects muscular development.
An easy way to bulk up using the author's training routine and nutritional recommendations.
The benefits of the sauna bath and how it can improve your endurance during training.
Learn about miracles of Zone Therapy.
The proper way to perform the Breathing Squat and the effects it has on chest development.
Training the chest and increasing your lung capacity for incredible health.
The incredible results that can be obtained from cable (chest expander) training.
The role that the feet play in developing the muscles of the body.
Forced Reps, the single most important method for success.
Four irrefutable facts and five misconceptions about gaining weight.
Tips, tricks and techniques with partial movements and power rack training.
Time tested methods for grip, wrist, and forearm development.
Understanding the two primary causes of failure to gain muscular body weight.
Discover things your trainers never told you.
Secret methods of bust development for women.
A chapter on proper bench press technique.
Process of elimination, beyond the ultimate steroid.
The sky's the limit if you faithfully adhere to these training principles.
And much, much more!
The old-timers (before steroids) knew better. So will you when you read, study, and APPLY what is in this book. If you do, you WILL get results.
Interesting reading, a real page-turner!
Best wishes,



Bill Hinbern
Super Strength Training
Order a copy of this 8½ x 11, spiral bound, soft cover, book with 90 pages and 31 chapters!
The Strength of Samson
How to Attain It
by Michael H. Brown
$ 20.00 + S&H

More publications by Michael H. Brown here:
(click on any image to read more!)
For a Limited Time Only…
The Michael H. Brown Collection
all 4 titles by Michael H. Brown
Regularly $ 84.90
Save $ 5.00!!!
Order NOW for ONLY $ 79.90 + S&H