Muscle Moulding
A BOSCO BOOK FOR ADVANCED BODY-BUILDERS
by Harry B. Paschall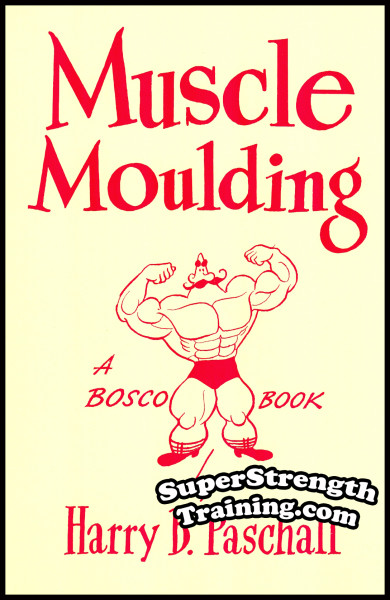 Have You Read MUSCLE MOULDING?
Originally published in 1950, this is the famous book which thousands of barbell men the world over called "The Bodybuilder's Bible".
This is the first of a series of books and courses that made the author famous by giving straightforward useable information to the public about NEW exercise methods.
In addition, he put this material into simple programs you can use without driving yourself and everybody else in the nearest gooney roost!
A MUST Book for Bodybuilders
Thousands of barbell men have found it the most complete guide of a Mr. America physique.
Contains many full page photographs of the greatest muscle men, and tells HOW they built their peerless bodies.
If you want to know the truth about bodybuilding, you will find it here.
Learn from Harry and BOSCO:
An outline of training methods used by most of the successful athletes over the past several decades.
What is a perfect man? How it has varied over the past century. Decide what your standard is going to be and go for it.
How barbell men go wrong. Some trainees come up with the time-worn excuse that they are simply not the type to gain and are doomed to failure. This is nonsense! The author explains why.
Set and series routines for fast results. Chapter 8 gives two weight gaining routines and a muscle moulding routine.
The theory and practice of multiple sets to jump start muscle growth.
Heavy and light training to keep your routine in a constant state of progression.
Learn how to use secret muscle control leverage to put your muscles in the state of "muscle cramping".
Discover at long last, the unknown secret of the muscle man…"Muscle Spinning"
The how-to about concentration and how to set yourself up for success.
The Rest-Pause, or Paschall Pause, explained in detail. How to do it and the results you can expect.
Special shaping movements to give your physique that head-turning symmetry.
How to gain weight and size without sacrificing muscular shape.
BOSCO suggests various specialization programs to coax along the weak points in your physique.
A chapter that relates the type of training to get a Mr. America type physique
The author, in candid form, gives the pros and cons of certain "secrets about training".
Read about new exercises that you may or may not have used in your personal training.
The inside result producing secrets on modern training without all the bunk!
Illustrated with scores of lively BOSCO pictures and photographs of great physique stars like John Grimek, Siegmund Klein, Reg Park, Eric Pedersen, Alan Stephan, Harold Zinkin, etc.
And much, much more!
We believe the best way to judge the value of a book is to ask the man who owns one…
Barbell Men Say: "WHAT A BOOK!"
"What a Book! Never in the Physical Culture World has so much wit and wisdom been packed within two covers. If you can only afford to buy ONE physical culture book – buy this one.
Dave Martin

"It is so excellent that to better it one would have to be a god."
Joseph Curtis Hise
Famous Author 

"It is refreshing to come across a book which is definitely enlightening."
Tony Terlazzo
1932 Olympic Weightlifting Gold Medalist

"Your book is great…there should be more like it, and less 'Bull'."
Halsey Miller

"Your book has created quite a sensation among our club members."
Larry Fountain

"With the help of Bosco, you have a masterpiece."
John Terpak
Olympic Weightlifter

"The most wonderful book I've ever read."
George Nuyama
Well, there you have it…a terrific book with plenty of information, written by a man with years of experience behind the scenes, with the backing of lifters from around the world.
So, what are you waiting for?
Yours for greater strength,



Bill Hinbern
Super Strength Training
A 6 x 9 softcover book with a beautiful glossy two color cover. It has 95 pages, 10 chapters, including 59 photographs and beautiful BOSCO illustrations!
Muscle Moulding
by Harry B. Paschall
$ 14.95 + S&H

Check out these other publications by Harry B. Paschall:
(click on any image to read more!)
For a Limited Time Only…
The Harry Paschall "Bosco" Collection
Order all 4 books and courses by Harry Paschall
Regularly $ 59.80
Save $ 5.00!!!
Order NOW for ONLY $ 54.80 + S&H