Muscle Control
by Anton Matysek
"America's Strongest Man 1922"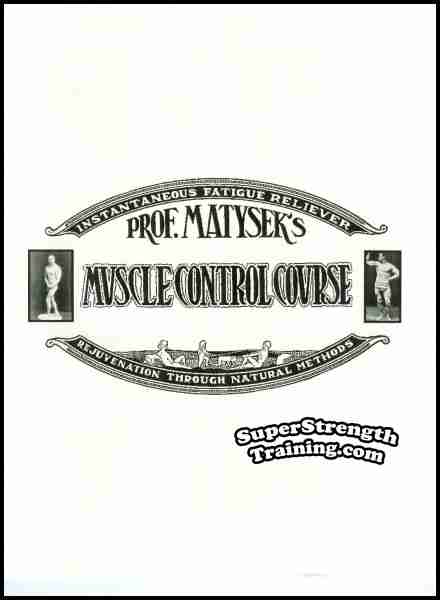 In 1922 the author, ANTONE MATYSEK, right, won the title "America's Strongest Man" in a contest held by famed physical culturist, Bernarr MacFadden.
From then on, he became a pioneer of physical culture in America, a world renowned strongman, and possessor of the world's finest physique, featured month after month in Alan Calvert's "Strength" magazine, books, and courses.
While not only having a rare talent in the art of muscle control, Matysek was also a world renowned strongman, carrying on the grand tradition of such notable strongmen as Otto Arco, John C. Grimek, Siegmund Klein, Maxick, Monte Saldo, and, of course, the legendary Eugen Sandow.
After achieving this immense popularity, the author set out to share his secret training methods with the world of strength.
Many of his hints, tips and secrets of his own method of Muscle Control are shown in this course.
Some subjects of the course are:
How To Easily Correct Rounded Shoulders
Easily Expel Gas From the Stomach
Control Every Muscle of Your Body
Store Up Energy For Feats of Strength
Complete Relaxation and Concentration
Effective Breathing
Arouse Your Inactive Nerves; Increase Your Chest
Famous Shoulder Blade Control
How To Thicken Shoulders & Make Them Supple In Three Days
Development & Control Of the Neck Muscles
Spread The Back
Control Pectorals, Biceps, Triceps, Thighs, and Calves
Master Correct Posture
How To Pose For Pictures
Advantages of Perfect Coordination of Muscles & Mind Through Concentration
other vital pointers for success too numerous to mention.
What Others Say About
"Muscle Control" by Anton Matysek
"I really enjoyed 'Muscle Control' by Anton Matysek due to the unusual training information and rare old photos in them."
C.H.
Kenova, W.VA
"Received books & courses and I was most pleased. 'Muscle Control' by Anton Matysek was excellent, the quality is the very best."
J.N.
Raleigh, NC
"'Muscle Control' by Anton Matysek was very good!"
J.K.
Tucson, AZ
Matysek had a fabulous physique as well as functional strength!
Yours for greater strength,



Bill Hinbern
Super Strength Training
You get a 12 page instruction manual…
PLUS 2, full size, 11×18, fold out, wall chart posters printed on special 100 lb., heavyweight, glossy, paper! Both beautiful posters are fully illustrated with 21 different rare photographs of Anton Matysek demonstrating 15 special exercises! Awesome for display! A constant source of inspiration and motivation! Ready to be framed and proudly displayed in your gym, den, garage, etc!
Order today!
Muscle Control
by Anton Matysek
$ 12.95 + S&H

More books on Muscle Control:
(click on any image to read more!)
For a Limited Time Only…
The Muscle Control Collection
Order all 3 Muscle Control Courses
Regularly $ 42.85
Save $ 5.00!!!
Order NOW for ONLY $ 37.85 + S&H