The Art & Science of Lifting
by Thomas Inch
The First Official "Britain's Strongest Man"!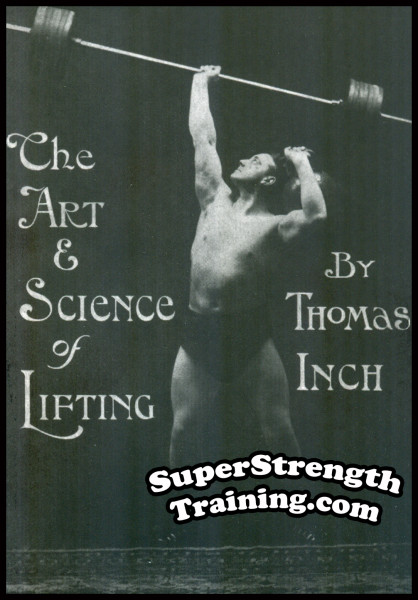 After becoming Britain's Strongest Man in 1910, Thomas Inch wrote"The Art & Science of Lifting".
Here, the veteran weight lifter, explains the different lifting styles used by the contemporary strongmen of the day.
Surprisingly enough, while advocating weightlifting as the best method for developing strength, the author also encourages the use of bodyweight exercises as well as that of chest expanders.
In addition, he explains that it is vital to experiment with a wide variety of different positions, styles, weights, etc. What works best for someone else may not be the best method for you.
The Table of Contents
1. Preface
2. The Selection of Weights
3. Modern Weight Lifting v. Old
4. Mode of Training
5. A New Style of Lifting—An Important Discovery
6. Up-to-date Aids to Scientific Lifting
7. Lifting in Competitions
8. Weight-Lifting for Health
10. One-hand Anyhow
11. One-hand Clean Lift
12. The Snatch
13. Combined Bar-Bell and Kettle-Bell Lift
14. The One-handed Jerk
15. The Two-handed Clean Bar-Bell Lift
16. Two-hands Anyhow—Bar-Bell
17. The Mauling Lift
18. Two Hands to Shoulder, Bell on end
19. Special exercise for the Double-handed Lift
What People Are Saying About
THE ART & SCIENCE OF LIFTING
by Thomas Inch
"Finally, a book by Thomas Inch! Thank you, Mr. Hinbern, for making this rare book available once again!"
Kevin S.
West Yorkshire, Great Britain
"Mr. Hinbern, I have lived in Great Britain all my life. I have read everything I could find about Thomas Inch. I have never seen a copy of The Art & Science of Lifting. Here is my order and thank you!"
Christopher H.
Essex, Great Britain
"I'm a big fan of Thomas Inch and I'm so glad I have found your website so that I can order this book!"
David W.
Ontario, Canada
Another great addition to anyone's strongman library!
Yours for greater strength,



Bill Hinbern
Super Strength Training
A 5 x 7 softcover book with 19 chapters, 86 pages including over 40 rare photographs and illustrations! An excellent book by one of the world's most famous weight lifters of all time! Get your copy today!
The Art & Science of Lifting
by Thomas Inch
$ 14.95 + S&H

More Weight Lifting Publications by Thomas Inch:
(click on any image to read more!)
For a Limited Time Only…
The Thomas Inch Collection
all 4 titles by Thomas Inch
Regularly $ 59.80
Save $ 5.00!!!
Order NOW for ONLY $ 54.80 + S&H