The Truth About Weight Lifting
by Alan Calvert
Founder of Milo Bar Bell Company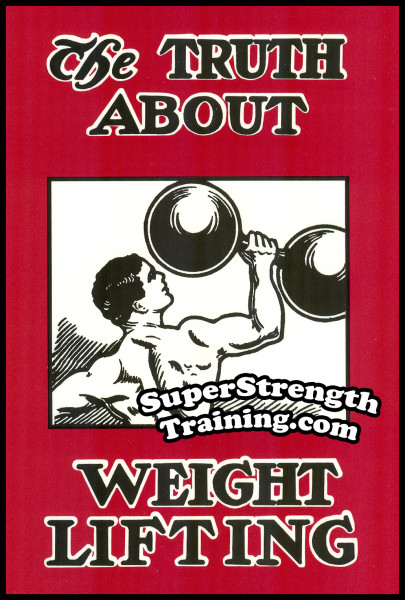 In 1911 Alan Calvert, the outspoken and opinionated proprietor of Milo Bar Bell Company, wrote and published the VERY FIRST hardcover book exclusively on the subject of weight lifting in America.
After reading this book you will understand why it caused such a controversy among the performing strong men of the day!
Fifteen chapters are devoted to some of the greatest known feats of strength, how they were performed, which were genuine, and which were fake.
In addition, the author compares the lifting abilities of such greats as Eugen Sandow, Louis Cyr, Charles Samson, John Gruhn Marx, Joseph Steinbach, Arthur Saxon, Karl Swoboda, etc.
Learn From the Greatest Weightlifting Teacher of All Time:
Why America excels in light sports and all strength records are held by Europeans.
How professional strongmen deceived their audience by using trick dumbbells.
How to do the standard dumbbell lifts: the Snatch, Swing, Jerk, and Press.
Learn the one arm press, bent press, dead weightlifting, harness lifting, back lifting, muscling out bells, stage work, etc.
Exhibition feats: lifts vs. supports or muscle strength vs. bone strength.
The magic of strength: chain snapping, coin breaking, card tearing, etc.
Why the American strongman relies on challenges rather than competition for advertising purposes.
How to determine the strongest man in the world. Why most lifting records are held by amateurs.
Why the measurements of famous strong men are often exaggerated, especially chest expansion. How the size of a man's head affects appearance.
Weight lifting vs. heavy dumbbell exercises. Learn the method used by all famous strong men to strengthen the body for heavy work.
The difference between strength and power. Why a good big man always beats a good little man. Heavy men hold the records.
Old superstitions regarding lifting. What does it mean to be "muscle bound"? Why it takes an active man to do competition lifting. Why great lifters are usually fine jumpers.
Stage work. Why the audience demands that the "Traveling Strongman" has showy surface muscle.
Interesting anecdotes about famous lifters, their methods in training, views regarding drinking, smoking, etc.
And much, much more!
"I have never known any man to make even respectable records at weight-lifting if he wasted his time exercising with 5 and 10 lb. dumbbells."
– Alan Calvert
Here's a Few Comments From People Who Have Read
"The Truth About Weight Lifting"
by Alan Calvert
"Thanks for the fast delivery of Calvert's 'The Truth About Weight Lifting'. This is a great book! It has a lot of valuable information that I've never found any where else! Thanks, again!"
Bill S.
Morris Plains, New Jersey
"I just finished reading, 'The Truth About Weight Lifting' by Alan Calvert. It really opened my eyes about early lifting in America."
Justin R.
Belton, Missouri
A copy of this book belongs on the bookshelf of every man who trains with barbells, dumbbells and kettlebells!
Yours for greater strength,



Bill Hinbern
Super Strength Training
Order a copy of this beautiful 5×8 softcover book with 160 pages, 15 chapters, including over 42 photographs and illustrations with a two color cover!
The Truth About Weight Lifting
by Alan Calvert
$ 14.95 + S&H

More Weight Lifting Publications by Alan Calvert:
(click on any image to read more!)
For a Limited Time Only…
The Alan Calvert "Milo Bar Bell" Collection
all 3 titles by Alan Calvert
Regularly $ 69.85
Save $ 5.00!!!
Order NOW for ONLY $ 64.85 + S&H