Super-Strength
by Alan Calvert
Founder of Milo Bar Bell Company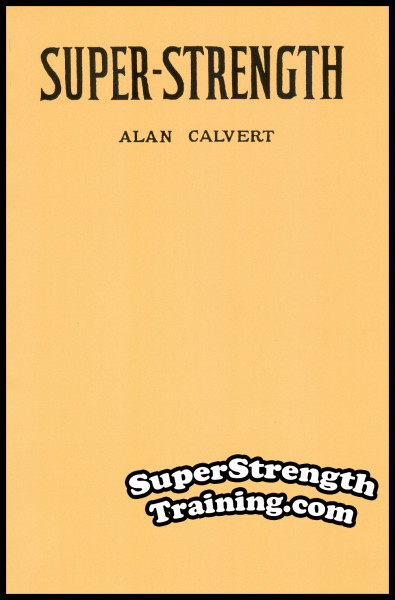 This book is one of the all time great classics in the world of strength and strongmen.
Some even consider it to be the best book ever written on the subject of weightlifting.
It was originally written and published in 1924 and, in its day, thought to be the proverbial "barbell bible."
This was "the book" when it came to lifting weights whether you were just starting out or you were a seasoned veteran of the iron game.
Read what the author learned over a span of 20 years from his day to day experiences while at the hub of weightlifting in America…
The legendary The Milo Bar Bell Company of Philadelphia.
See genuine strongmen in leotards, Roman gladiator sandals and wrist gauntlets doing harness lifts, tossing kettlebells, snatching shot loading dumbbells, and pressing huge globular barbells.
Legendary greats like: Apollon, Otto Arco, Louis Cyr, Charles Durner, Pierre Gasnier, Archie Gillespie, Edward W. Goodman, George Hackenschmidt, George F. Jowett, Siegmund Klein, George Lurich, Tony Massimo, Anton Matysek, Adolph and Joseph Nordquest, Harry B. Paschall, Eugen Sandow, The Saxon Trio, John Y. Smith, Roy L. Smith, Robert Snyder, Joseph Steinbach, Henry "Milo" Steinborn, Albert Tauscher, George Zottman, etc.
Twenty-Six Chapters With Over 80,000 Words Take You Through:
The Back.
Some Lifting Records.
The Legs.
Harness and Platform Lifting.
The Sides.
The Abdominal Muscles.
The Chest.
The Upper Part of the Back.
The Shoulder Muscles.
The "Swing" and the "Snatch."
The Jerk Lift.
Arm Strength.
Lifting a Bar-Bell From Floor to Chest.
On Individual Training.
Making Yourself Over.
Hands, Wrists and Forearms.
Where Does It All Come From?
Professional Exhibition Work.
Who Is The Strongest Man in the World?
More About Lifting.
Some Out-Worn Superstitions.
The Secret of the Bent-Press.
Statuesque Development.
Effects of Exercise
And much, much more!
What Readers Have Said About
Super-Strength by Alan Calvert!
"I loved Super-Strength. Thank you for making these books available."
Tim C.
Somersworth, New Hampshire
"Got the Calvert book today, appreciate the great service!"
Dave H.
Salem, New Hampshire
Timeless information that is just as pertinent and result producing today as it was years ago when it was strictly man against iron and strongmen made their living with their strength.
Written for those who trained at home in their barn, garage, basement, cellar, backyard, etc., at a time when commercial gyms like those of Siegmund Klein and Prof. Anthony Barker were scarce!
Best wishes,



Bill Hinbern
Super Strength Training
Order a copy of this beautiful 5×7½ softcover book with 26 chapters, 220 pages of text plus 95 pages containing over 177 photographs and illustrations! Classic!
Super-Strength
by Alan Calvert
$ 24.95 + S&H

More Weight Lifting Publications by Alan Calvert:
(click on any image to read more!)
For a Limited Time Only…
The Alan Calvert "Milo Bar Bell" Collection
all 3 titles by Alan Calvert
Regularly $ 69.85
Save $ 5.00!!!
Order NOW for ONLY $ 64.85 + S&H