New Release!!!
Mr. Universe Reveals His Secrets to Muscular Power…
and a World Class Physique!
The Science of Dumbbell Training
by Reg Park
Mr. Universe 1951, 1958 and 1965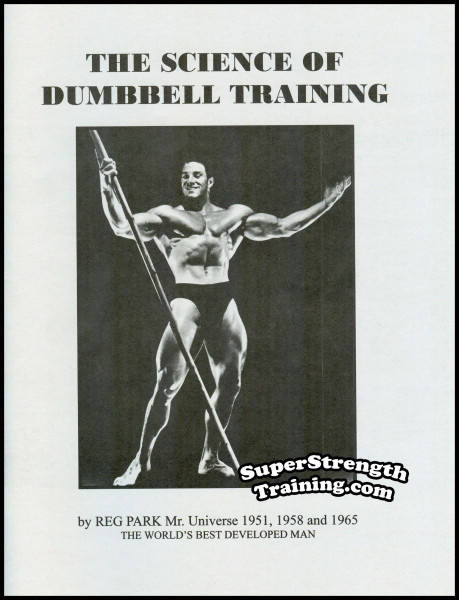 In 1953, Reg Park set a British Professional Heavyweight Weightlifting Record with a Standing Dumbbell Press of 258 pounds, in the Strict Military position!
What makes this feat, equally astonishing, is that this record beat the old one of 235 pounds, which was previously held by Park!
This should give you some idea of just how important the Reg Park felt about training with dumbbells.
If you have used barbells for most of your weight training, or have never used dumbbells, exclusively, you will be amazed at the results you will obtain from this method of training.
Why Use Dumbbells in Your Weight Training?
Weight training with dumbbells is far different than that of barbells.
While training with barbells, each arm and side of the body has the advantage of assisting the other.
That is, each side works in tandem with the other.
However, when training with dumbbells, this "team effort" is lost and a feeling of awkwardness will occur, at first.
This is where the important "stabilizer muscles" come into play.
You will feel soreness in these muscles the next day after a thorough workout with heavy dumbbells.
In addition, the use of a pair of adjustable, plate loading, dumbbells can be far more convenient than that of a long handled barbell.
Dumbbells can be used in the small confines of an apartment, in a bedroom, or a den, etc., and
be conveniently stored away in a compact area such as a closet, footlocker, etc.
In addition, they can be easily transported in the trunk of a car and used while traveling, on business or vacationing, in a hotel, etc.
"World's Best Developed Man"
Any time the conversation turns to muscular bulk and power, the world famous name of Reg Park comes to mind. Reg brought physical development to a new high by winning the "NABBA Mr. Universe" not once, not twice, but THREE times!
Reg was very helpful when it came to training. When Bruce Randall approached Reg for advice to help him prepare for the "NABBA 1958 Mr. Universe" contest, he didn't hesitate, even though they were both competing! Reg won the overall contest, of course, but the advice that Reg gave Bruce was so good that Randall came in second! The following year Bruce Randall won the "NABBA 1959 Mr. Universe" contest.
Park competed in physique contests from 1946 to 1973, a span of 27 years! He won "Mr. Britain 1949", and "NABBA Mr. Universe 1951, 1958 and 1965″!
In addition, Reg Park was the idol and mentor of 7 time Mr. Olympia, Arnold Schwarzenegger! Arnold spent a lot of time with Reg over the years and considered him to be one of the best bodybuilders of all time.
Movie Star of the Italian Sword and Sandal Muscle Man Epics
Reg Park was the only British bodybuilder to star in the Italian sword and sandal muscleman movies of the 1950's and 60's. He starred in: "Hercules in the Haunted World" (1961), "Hercules and the Captive Women" (1963), "Maciste in King Solomon's Mines" (1964), "Hercules, Prisoner of Evil" (1964), and "Hercules the Avenger" (1965). Even though his movies were produced over 45 years ago, they are still every bit as popular today.
Massively Built and Incredibly Strong
Reg Park was the FIRST bodybuilder and the SECOND man in the world to Bench Press 500 lbs.! At the "1957 Pro Mr. USA", Reg Park Bench Pressed over 500 lbs. in STREET CLOTHES!
His best lifts:
Bench Press with 500 lbs.
Dumbbell Bench Press with two 185 lb. dumbbells for five reps.
Behind the Neck Press with 300 Lbs.
Standing Dumbbell Press with two 140 Lb. dumbbells.
One Arm Dumbbell Press with 165 lbs. for two reps.
Incline Dumbbell Press with two 185 lb. dumbbells for five reps.
Lying Triceps Extension with 300 lbs. for three reps.
Strict Barbell Curl with 200 lbs.
Squat with 605 lbs. for two reps.
Front Squat with 405 lbs.
The Science of Dumbbell Training
Reg Park originally wrote and published this dumbbell training course in 1953, a few years after becoming the FIRST Englishman to win the coveted "NABBA Mr. Universe Contest."
He carefully arranged the special exercises in each training schedule to provide the trainee with maximum benefit.
Here is an outline of what you will learn from Reg Park's unique dumbbell training course:
An interesting preface by Reg Park describes his first trip to America and training at Siegmund Klein's Gym.
An introduction to that emphasizes the importance of dumbbell training.
The author discusses "The General Principles of Weight Training" for a better understanding and to ensure success. He presents his views on the importance of the right training quarters, training days, when to train, what to wear, breathing, recuperation, sleep, proper nutrition, milk, the importance of water, sets and repetitions, etc.
An explanation of what dumbbell training is and why it is important for intermediate and advanced bodybuilders and weightlifters to implement in their training.
The dumbbell exercise training involves TWO – 8 WEEK training schedules incorporating 16 different exercises, accompanied by beautiful photographs of Reg Park demonstrating each of the exercises. These are the EXACT dumbbell training routines that Reg Park used on and off during his, highly successful, 27 year bodybuilding career.
An inspirational conclusion to help you get on with successful training.
A rare photo of Reg Park Bench Pressing 500 POUNDS IN STREET CLOTHES, ON AN OLD WOODEN BENCH, at the "1957 Pro Mr. USA", on May 11th 1957, at Shrine Auditorium in Los Angeles, California.
A rare photo of Reg Park trying a very unique, and difficult, bench press with a pair of 150 pound barbells.
Helpful Skeletal and Muscular Anatomy Charts to help you focus on specific areas of the body.
Detailed information about Reg Park's many Bodybuilding Contest Titles.
Detailed information about his many famous "Hercules" motion pictures.
Fully illustrated with over 40 rare and beautiful photos and illustrations.
And much, much more!
Champion bodybuilder, strongman, movie star, gym owner, writer, publisher of "The Reg Park Journal". Reg Park has done everything in the strength world!
Read what Arnold Schwarzenegger has to say about
REG PARK "Mr. Universe"…
"Other than my parents, there may be no single person who had more to do with me becoming the person I am today other than Reg.
Two magnificent photos of Reg Park hang on the wall in my study, one with a handwritten inscription that I treasure. Reg was way ahead of his time; he remains an inspiration to physical culturists everywhere."
Arnold Schwarzenegger
7-time IFBB Mr. Olympia
4-time NABBA Mr. Universe
4-time Powerlifting Champion
Motion Picture Star
Read What People Say About:
"The Science of Dumbbell Training" by REG PARK
"Just received, 'The Science of Dumbbell Training' by Reg Park, today. Great course, Bill! I've already started the first schedule and can feel the difference."
Larry H.
San Rafael, California
"I remember reading copies of, 'The Reg Park Journal', when I was a young lad. Good, sound, advice. His dumbbell course is well done and should get great results!"
Alan S.
Yorkshire, England
"Thank you for the, 'The Science of Dumbbell Training' by Reg Park. I'm glad to add this to my 'REG PARK Library' of training books. As usual, you have done a great job!"
Robert P.
Reading, Pennsylvania
"Hi Bill. Thank you for the fast delivery of, 'The Science of Dumbbell Training' by Reg Park! I'm a beginning weightlifter and have not used my dumbbells, a lot. I plan on testing them out with your new course. Thanks, again!"
Roderick P.
New Brunswick, Canada
"Thank you for the order received, today. I immediately opened, Reg Park's, 'The Science of Dumbbell Training'. Excellent training advice along with two great dumbbell programs. I will let you know how these work out for me."
Stanley J.
Virginia Beach, Virginia
"Thank you, Bill, for sending along my order of, 'The REG PARK Collection.' It is amazing, that after all these years, REG PARK is still well known over here. The old guys in the gyms tell many stories about him. I just read over, 'The Science of Dumbbell Training', and plan on starting it soon."
James M.
Glasgow, Scotland
To learn and utilize the training methods found in Reg Park's famous course, only a few pieces of equipment are needed.
A pair of adjustable plate loading dumbbells, a flat bench, and an incline bench.
Once you have set up your gym, you are ready to begin your 4 month journey to increased muscular size and a noticeable increase in overall strength.
Yours for greater strength,



Bill Hinbern
Super Strength Training
P.S. A classic course! The training methods found in this course helped catapult Reg Park to become the top bodybuilder in the world for decades!
A beautiful 8½ x 11, softcover, training manual, fully illustrated, with 24 pages.
The Science of Dumbbell Training
by Reg Park
Only $ 15.95 + S&H

Click on any publication by REG PARK for more information:
For a Limited Time Only…
The REG PARK "Mr. Universe" Collection
All 8 titles including 18 courses by REG PARK
Regularly $ 190.60
Save $ 30.00!!!
Order NOW for ONLY $ 160.60 + S&H