Gray Hair and Black Iron
Secrets of Successful Strength Training
for Older Lifters
Brooks D. Kubik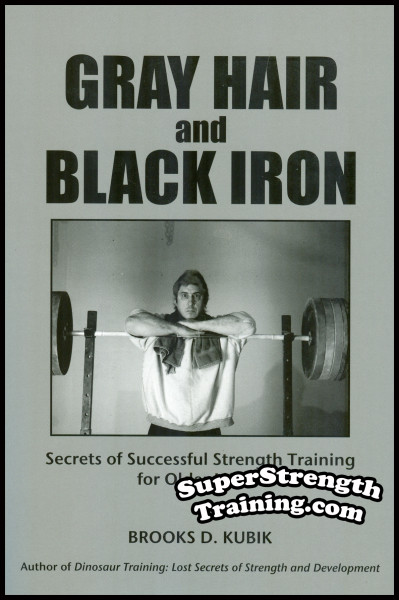 Generally speaking, training information has been marketed towards the younger man, those in their teens, twenties and thirty somethings.
For the last sixty years, most magazine articles have been written with the young man in mind. I think you understand what I mean. The authors talk about gaining muscular bodyweight, building big arms, etc.
Those that start to get "a little long in the tooth" have been, for the most part, generally ignored.
That's of course, until now…
This information is for the serious…not the curious seasoned athlete who prefers to train with heavy black iron.
My good friend Brooks Kubik has written a block buster book for those who have been overlooked in the world of strength.
This is what he has to say: "Peary Rader, the founder of Iron Man magazine, and the magazine's editor for 50 years, used to call the over-40 trainee 'the forgotten man.' He used the term because virtually all of the articles published over the past 100 years in the 'muscle magazines' have been aimed at teenagers and young men."
A Long Time In Coming
You may not know it, but the head dinosaur has just past the 50 year mark and is still pushing, pulling and tugging at the heavy black iron. Therefore, he understands the needs of the seasoned trainee. His training methods have had to evolve along with his age. Fortunately, he has put to paper those tried and true training methods that he has found to have really worked for him and will work for those trainees that share some of the same problems that naturally occur with middle age.
Remember, this is the same man who was a Five Time National Bench Pressing Champion in Drug Tested Competition!
The same man who literally knocked the weightlifting world on its ear with the best seller, Dinosaur Training, that has gone into countless editions and has sold world wide for over 16 years!
Well, this same man is now offering over 40 years of weight training experience ear marked specifically for those that are getting a little gray.
Dinosaur Training for the Dinosaurs…Indeed!
This is the only book available on the market that addresses the specific training issues of the older strength athlete.
1. Freedom from pain.
2. Maintaining flexibility.
3. Stamina in everyday life.
4. Minimizing body fat.
There comes a time when all that really matters is life long good health and functional strength.
In addition, unless you are very careful, father time will be handing you your joints in a brown paper bag!
For those that are and those that will be.
Written specifically for lifters who love the black iron and who train at home in their basement, cellar, garage, back yard, etc. But please bear in mind…these same training principles can be applied to the equipment found in commercial gyms.
All you need is adjustable, plate loading, barbells and dumbbells.
Over 50 Different Training Programs
Specifically Designed for the Mature Lifter
"GRAY HAIR AND BLACK IRON" will teach you:
How to build strength and power at any age
How to protect your joints
How to maintain athletic fitness
How to preserve your vitality
How to increase your energy
How to train for life-long health and fitness
How to build and maintain muscle mass
How to stay lean and hard
How to avoid overtraining
How to train with maximum efficiency
How to design age-appropriate strength training programs
How to combine cardio training and strength training
How to get great results at any age
And much, much more!
Testimonials to
GRAY HAIR AND BLACK IRON by Brooks Kubik
"Hi Bill, Brooks Kubik's book, 'Gray Hair and Black Iron,' was just what the doctor ordered, I'll be 50 this summer and still want to train hard."
Chuck G., Carnegie, Pennsylvania
"Hi, seventy pages into 'Gray Hair and Black Iron,' excellent book. I am 51 so I will take the advise and slow down a little…"
Dan D., Ontario, Canada
"Hi Bill, I started lifting to get bigger and stronger and improve my sports performance. Now, 48 years later, my original barbell is still part of my home gym. I think Brooks Kubik's 'Gray Hair and Black Iron' is the definitive work on training for us 'old guys'."
Ralph L., Wantagh, New York
"Bill, I just finished reading 'Gray Hair Black Iron.' And I will say applying it. I can't thank you enough for recommending it. The advice such as laying off bench presses because of the shoulder stress was really helpful. Another bad gimmick invented in the 50's. I am using one of the old Bob Hoffman routines and am enjoying and benefiting greatly. I am 64 years old and my muscle memory from over 40 years ago and the exercises are improving my body."
Ray G., Garden City, New York
"Thanks Bill, 'Gray Hair and Black Iron' actually arrived recently. I placed an order as soon as it was available, as I enjoyed 'Dinosaur Training' so much, and the book arrived on my doorstep last week. As I had anticipated, it was a great read, Brooks arrived at many conclusions I have also after 33 years under the iron."
Kevin D., Adelaide, Australia

"Bill, I'm reading Brooks Kubik's book, 'Gray Hair and Black Iron,' terrific advice for guys like me who're pushing 60."
Ralph L., Wantagh, New York

"Bill: I just recieved the new Kubik book, 'Gray Hair and Black Iron.' FANTASTIC! Its great to have a book for us guys that still want to pound away despite our 'advanced' age! The great thing is that Brooks doesn't cut us too much slack with the routines offered. As an example, I'm not going near that power/cardio routine on page 162 with a ten-foot pole. I have a wife and kids to consider! Even if you're not an 'old geezer', definitely shell out the cash for this book, you won't be disappointed. I think its a book for all ages especially if you want the right information in your early days of lifting. Read the book, the information is important if you want to lift for a lifetime. Well done Brooks, well done!"
Murray N., Manitoba, Canada

"A Happy New Year to you and yours too. Yes I know all about Brooks new book, 'Gray Hair and Black Iron,' in fact I am half way through it now, it is very good and Brooks is a brilliant writer. His book is a good read and full of good ideas and common sense suggestions which being in my 75th year I follow anyway. Some of the things he writes about are so obviously the things to do as you get older that it never occurred to me that some people have to be told to do it, but I suppose that common sense is not so common after all. I am now going to wrap up well and make my way through the snow to the shed at the bottom of my garden and get going on some of Brooks suggestions, especially the warm ups which I used to rush through, no wonder my knees ached afterwards."
Kevin F., Manchester, Great Britain

"If you want to add years to your weight training career then this book will truly be an eye opener."
Bill Hinbern, Farmington, Michigan

"I'm 61 and still training. I think 'Gray Hair and Black Iron' is the best book around for anyone over 50 who has been around the iron game for a while."
Ralph L., Wantagh, New York
Yours for greater strength,



Bill Hinbern
Super Strength Training
This is a 6 x 9 softcover book with over 312 pages and 25 chapters!
"So don't let your gray hair keep you from the black iron!"Order your copy of Brooks Kubik's exciting new book today!
Gray Hair and Black Iron
by Brooks Kubik
$ 34.95 + S&H

Check out these other books by Brooks Kubik:
(click on any image to read more!)
You Won't Want to Miss the Famous "Legacy of Iron" Series
by Brooks Kubik:
(click on any image to read more!)