New Release!
In Stock Ready to Ship!
Knife, Fork, Muscle:
Diet and Nutrition for Lifelong Strength and Health
by Brooks D. Kubik
Author of the international best seller, "Dinosaur Training"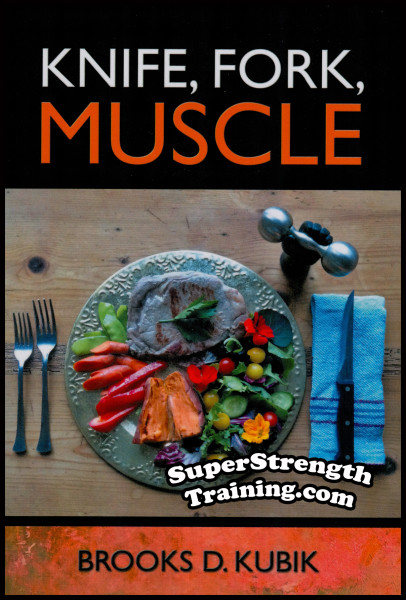 Over the years, I have been asked tons of questions about how the old time strongmen trained.
How often did they train, what types of equipment did they use, which exercises, how many sets, how many reps, AND…
What did the old time strongmen EAT to develop their tremendous physiques and unbelievable strength.
"Building muscle or bodybuilding is 80% nutrition" – Vince Gironda, the "Iron Guru" and legendary gym owner
Well, one thing is for sure, they certainly didn't have all the instant and concentrated foods with all their preservatives, additives, homogenization, fortification, food coloring, packaging, etc., that we have TODAY!
And what about vitamins, minerals, concentrated food supplements, etc.?
Sorry, these hadn't been "discovered", yet!
In addition, their environment, in many cases, was far more rural, than it is today.
Which means farming was closer at hand.
Our vast infrastructure was in it's infancy, the LOCALLY grown, FRESH, fruits, vegetables, meat and dairy, was the diet of availability as well as necessity.
And speaking of "preservatives", the closest that farmers came to extending the shelf life of their food was when they canned or "put up" their "home grown" foods in preparation for the "off season".
Fortunately, for those of us, one hundred years later, someone has done an in-depth study on just this type of nutritional regimen.
Build More Muscle and Gain More Strength
In many ways, kind of an exercise in how the pioneers foraged for a living.
You know, "the dinosaurs of yore", so to speak.
And, when it comes to "dinosaur training", one name immediately comes to the forefront…
The man who coined the phrase, "Dinosaur Training", and who brought success through result producing training methods to the world of weight training…
Brooks Kubik.
The author has now revealed, for the FIRST time, his principles of, what I call, "Dinosaur Nutrition"!
Avoid the Confusion and Frustration!
After exhaustive research and copious notes gleaned over several decades, Brooks has compiled a book dedicated EXCLUSIVELY to nutrition for those that utilize his methods as laid out in his popular book…
"Dinosaur Training: Lost Secrets of Strength and Development"
After learning about THE VERY BEST TRAINING EXERCISES AND METHODS, you NOW have the opportunity to learn about the THE VERY BEST NUTRITION!
Here is a sample of what you will learn from this book:
1. How to Cut Through All the Confusion Regarding What Kinds of Food to Eat!
2. What is "Real Food"?
3. Where most of the food in America is grown.
4. The nutritional, as well as the socioeconomic, value of locally grown organic food.
5. Learn how long it takes food to reach your table from local growers and ranchers.
6. Discover why and where to shop for the freshest food possible.
7. Reasons to avoid "big box stores".
8. What does "Free Range" mean?
9. What does "Grass Fed" really mean?
10. How to avoid poisons, chemicals, preservatives.
11. Get Lean and, More Importantly, STAY Lean without going on insane diets!
12. The author explains gaining and losing weight without going on insane diets.
13. Avoid Food Allergies and Intolerances with Special Diets!
14. Learn to Prepare Delicious Meals by Utilizing Real, Locally Grown, Wholesome Food!
15. Not only that, but you will get page and page of delicious recipes developed and enjoyed by the Kubik Family over several decades.
16. Build More Muscle and Gain More Strength!
17. Enjoy Lifelong Strength and Health!
18. And, much, much, more!
Those are just a few things that you will learn from this fascinating book!
Simply put, this book is to nutrition, what the author's book, "Dinosaur Training…", is to exercise!
This is not only a product of extensive, painstaking, research, but a well written, in depth discussion on all of the aspects of, not only eating for GREAT STRENGTH, but, more importantly, EATING FOR GREAT HEALTH!
While some weight training authorities will touch on some of the subjects, most of the information contained, here in, simply cannot be found in any other weight training book.
The information is packaged in plain English and delivered in a simple, direct, easy to follow format.
Yours for greater strength,



Bill Hinbern
Super Strength Training
A beautiful 6×9, softcover book with 378 pages!
Order your copy of Brooks Kubik's FIRST book written EXCLUSIVELY about NUTRITION today!
Knife, Fork, Muscle
by Brooks Kubik
$ 34.95 + S&H

Check out these other books by Brooks Kubik:
(click on any image to read more!)
You Won't Want to Miss the Famous "Legacy of Iron" Series
by Brooks Kubik:
(click on any image to read more!)