Strength, Muscle and Power
The Greatest Follow Up to "Dinosaur Training" Ever Written!
by Brooks D. Kubik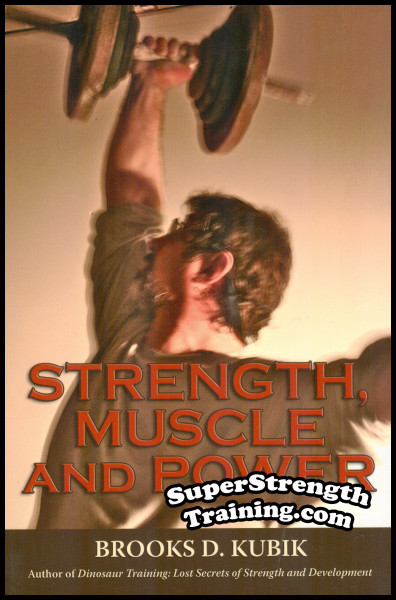 It's no secret, "Dinosaur Training" took the weight lifting world by storm away back in 1996. Everyone who was serious about his training bought a copy of this phenomenal book and eagerly devoured his common sense approach to packing on pounds of muscle and breaking personal records.
As time went on, people wanted more great result producing information.
So now, here you have it…a follow up to his famous book.
More exercises, more training secrets, more information about how the strongest men in history trained, more new and different tools, more about the mental aspects of training, more motivation, more inspiration, more ways to build real world strength, more information that you wished you had when you started training, more information that you won't find any where else, more special advice for the guy who trains in his cellar or garage, more of the same type of stuff that you learned in "Dinosaur Training"!
"This is the Book that you have been asking for!"
The author has edited, updated and expanded 28 of his favorite strength training articles that originally appeared in "Hardgainer", "Milo" and "The Iron Master".
They are now presented here together for the first time.
Here's an idea of what you will discover:
The EXACT training program that led me to five National Bench Press Championships – while training less than three hours per week
Training programs for powerlifters
Training programs for Olympic lifters
A simple trick to banish the fear of failure when you're facing a heavy weight
The two best assistance exercise for bench pressers
Divided workout schedules for maximum recovery
How I moved my dumbbell press from 100-pounders to 120-pounders – without doing any presses
Six highly effective systems of power rack training
A three-day per week power rack program that really works
The once-a-week program that put over 100 pounds on my squat
REG PARK'S success secret for advanced lifters
The "Keep It Simple" Cycling System
Ten keys to designing productive training programs for trainees at all levels of development
How to set specific training goals – and why it is CRITICAL to do so
The best exercises for every major muscle group
The best set/rep systems for serious lifters
Step-by-step training programs for beginners
Six different systems of Rest-Pause Training – the classic Golden Age training technique that built tons of muscle for tens of thousands of men
Seven detailed Rest-Pause training programs
How Harry Paschall put 30 pounds on his military press in 30 days
The top 10 reasons why home gym training is better than training at a commercial gym
The forgotten training method used by John Grimek – Joseph C. Hise – William Boone – Bob Peoples – Paul Anderson – Doug Hepburn – John Davis – Peary Rader – and thousands of others
How John Grimek trained to compete at the very highest levels in bodybuilding and Olympic weightlifting – at the same time!
REG PARK'S favorite strength and bulk program
George Jowett's secret of super-human strength
The secret workout that allowed Hermann Goerner to build what may have been the strongest hands in human history
And much, much more!
"If there ever was a 'Dinosaur Training' Volume 2, this is it!"
STRENGTH, MUSCLE AND POWER
by Brooks Kubik
Table of Contents:
Foreword
Introduction
Chapter 1: Abbreviated Training Works!
Chapter 2: Power Rack Training for Advanced Gains – Part One
Chapter 3: Power Rack Training for Advanced Gains – Part Two
Chapter 4: Sensible Training for Advanced Lifters: One Man's Perspective (Part One)
Chapter 5: Sensible Training for Advanced Lifters: One Man's Perspective (Part Two)
Chapter 6: How to Design a Productive Training Program – Part One
Chapter 7: How to Design a Productive Training Program – Part Two
Chapter 8: How to Design a Productive Training Program – Part Three
Chapter 9: Rest-Pause Training, Part One
Chapter 10: Rest-Pause Training, Part Two
Chapter 11: Body Part Specialization, Part One
Chapter 12: Body Part Specialization, Part Two
Chapter 13: There Are No Hopeless Cases!
Chapter 14: In Praise of Cellar Dwellers
Chapter 15: A Hodgepodge of Training Advice
Chapter 16: Ultra-Abbreviated Strength Training Routines
Chapter 17: Simplify – Simplify – Simplify!
Chapter 18: The Essence of Strength
Chapter 19: Believe in Yourself!
Chapter 20: Scotland in a Barrel
Chapter 21: One on One with Arthur Saxon
Chapter 22: Finishers
Chapter 23: Thick Bar Training
Chapter 24: The One Hand Deadlift
Chapter 25: An Island Gym
Chapter 26: Goerner's Deadlift Variations
Chapter 27: Barbell Basics
Chapter 28: Another Abbreviated Training Program
Chapter 29: Some Closing Remarks
Yours for greater strength,



Bill Hinbern
Super Strength Training
Order your copy of Brooks Kubik's exciting new book today!
Strength, Muscle and Power
by Brooks Kubik
SOLD OUT!
Check out these other books by Brooks Kubik:
(click on any image to read more!)
You Won't Want to Miss the Famous "Legacy of Iron" Series
by Brooks Kubik:
(click on any image to read more!)